KUKA Showcases RoboSim 4-D Simulator on New Robocoaster Ride at Disney's Epcot
Clinton Township, MI – KUKA Robotics Corporation is pleased to announce the usage of the RoboSim 4-D Simulator ride system as part of a new exhibit at INNOVENTIONS in Epcot at the Walt Disney World Resort in Lake Buena Vista, Florida. The addition of the RoboSim 4-D Simulator is an expansion of KUKA's current presence at INNOVENTIONS at Epcot. KUKA currently sponsors Rockin' Robots - an interactive exhibit of more than 2,000 square feet which allows guests to conduct a robotic band located in the INNOVENTIONS West building.

"The popularity and expansion of INNOVENTIONS coupled with KUKA's unique and innovative robotic and educational solutions in this exciting entertainment and education project will enhance the KUKA brand presence while strengthening our continued growth in the North American market," stated Stu Shepherd, President of KUKA Robotics Corporation. "We are excited for the opportunity to demonstrate KUKA's unique capabilities in a market that drives progress and interest in learning."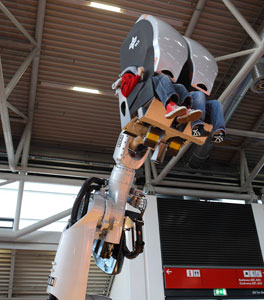 The KUKA RoboSim 4-D Simulator creates a 4-dimensional experience through 3-D robotic motion and "wind," by controlling air movements to stimulate the senses providing a more realistic simulation experience involving high speeds, quick direction changes and different climates for a unique sensation. The appeal of the 2-seat simulator is that it does not fully enclose the rider, but allows the rider's legs and feet to be suspended. The spherical carbon-fiber hood, which is integrated as part of the unique KUKA RoboCoaster ride system, immerses the rider into a true sensory experience by using high definition video combined with stereo sound and controlled air motion.

"The KUKA RoboCoaster programmable robotic ride system utilizes 6 axes and 6 degrees of total directional freedom with synchronized "under the hood" entertainment provides a thrilling experience like no other," commented Shepherd.
The RoboSim 4-D Simulator is TÜV certified and includes safety devices such as smoke alarms and temperature monitoring. Video cameras and microphones allow RoboSim operators to monitor passengers at all times.
Prime venues for use of the RoboCoaster and RoboSim versions include theme parks, science centers, shopping malls, family entertainment centers (FEC), amusement parks, leisure parks, and other motion-enhanced, virtual reality applications.
KUKA Robotics offers a wide range of industrial robots and robot systems, which includes the RoboCoaster. The RoboCoaster operates with a service-proven PC-based control platform. This PC-based robot controller (KR C) benefits from all the advantages of PC technology, such as remote diagnosis, Microsoft Windows interface, field bus, Soft PLC, OPC Server and much more.
About the KUKA Robot Group
KUKA Robotics Corporation along with KUKA Roboter GmbH, Augsburg Germany (part of the KUKA Aktiengesellschaft group of worldwide companies), ranks among the world's leading suppliers of industrial robots and material handling vehicles. Core competencies include the development, production, and sale of industrial robots, controllers, software, linear units, and omniMove™ omni-directional motion platforms. KUKA robots are utilized in a diverse range of industries including the appliance, automotive, aerospace, consumer goods, logistics, food, pharmaceutical, medical, foundry and plastics industries as well as multiple applications including material handling, machine loading, assembly, packaging, palletizing, welding, bending, joining, and surface finishing. KUKA robots range from 5kg to 1300kg payloads, and 635mm to 3900mm reach, all controlled from a common PC based controller platform. KUKA is the market leader in Germany and Europe, and number three in the world. The KUKA Robot Group employs about 2,000 people worldwide. Of these, 1,200 are employed in Germany, either at the KUKA Robot Group headquarters in Augsburg, or at various subsidiaries. In 2008, sales totaled 474 million Euro. Twenty-six subsidiaries provide a presence in the major markets of Europe, the Americas and Asia. For more information contact KUKA Robotics at 866-873-5852 or visit their website at www.kukarobotics.com.
About INNOVENTIONS at Epcot
INNOVENTIONS is located in the heart of Epcot at the Walt Disney World Resort in Lake Buena Vista, Florida. Creativity and imagination abound as guests celebrate inspiration and the innovations that improve their lives and expand their horizons. Hands-on, interactive exhibits allow children and adults to be immersed into ideas that inform, entertain and inspire. For more information, contact Stacia Wake at [email protected] or visit www.innoventions.disney.com