KUKA Robotics to Present Research on Automation Strategies at Robot & Vision Show
KUKA Robotics Speaks on New Trends in Plastic Processing Robotics & Advancements in Robot Software & Simulation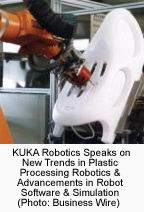 CLINTON TOWNSHIP, Mich.--(BUSINESS WIRE)--KUKA Robotics Corporation, a leading global manufacturer of industrial robots, today announced it will present its latest research on emerging trends and advancements in robotics at the Automation Strategies forum at the Robot & Vision show to be held June 12-14th at the Donald E. Stephens Convention Center in Rosemont (Chicago), IL. John Nelson, plastics industry product manager for KUKA Robotics, will be presenting new trends in six axis robotic applications for injection molders on Thursday, June 14th from 8:45-11:00am. The forum will feature presentations from KUKA Robotics and other leading robotic manufacturers who will also be taking questions from attendees. Patrick Duda, plastics industry engineering manager for KUKA Robotics, will be presenting KUKA research on advancements in robot software and simulation on the same day at 10:15-11:15am.
''As a leading robotics event, the Robot & Vision show showcases emerging trends and advancements in the robotics field and is an excellent forum to learn about the latest technology available,' said Stuart Shepherd, president of KUKA Robotics Corporation. ''In addition to the conference presentations we will be featuring live demonstrations of our robotic technology on our booth that will show attendees real world advantages of robotics.''
KUKA Robotics' robots are used in a widely diverse range of industries. At this event the KUKA Robotics' booth #1823 will feature multiple KUKA robots demonstrating milling, welding and plastic applications. More information on the International Robot & Vision Show can be found on their website at http://www.robots-vision-show.info.
KUKA Robotics Corporation, with its parent company KUKA Roboter GmbH, Augsburg, Germany, is one of the world's leading manufacturers of industrial robots, with an annual production volume approaching 10,000 units, and an installed base of over 80,000 units. The company's 5 and 6 axis robots range from 3kg to 570kg payloads, and 635mm to 3700mm reach, all controlled from a common PC based controller platform. KUKA robots are utilized in a diverse range of industries including the appliance, automotive, aerospace, consumer goods, logistics, food, pharmaceutical, medical, foundry and plastics industries and in multiple applications including material handling, machine loading, assembly, packaging, palletizing, welding, bending, joining, and surface finishing. For more information contact KUKA Robotics at 866-873-5852 or visit their website at www.kukarobotics.com.
The KUKA logo is a registered trademark of KUKA Roboter GmbH. KUKA is a trademark of KUKA Roboter GmbH. All other trademarks are owned by their respective companies.
Contacts
Press and Industry Analysts
KUKA Robotics Corporation
Kevin Kozuszek, 248-819-0230 (voice)
866-329-5852 (fax)
Director of Marketing