KUKA Robotics Selected by Lawrence Technological University to Provide Robots for New Master's Program
Only Master's-Level Mechatronic Systems Engineering Program in U.S. Utilizes KUKA Robots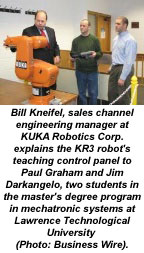 CLINTON TOWNSHIP, Mich.--(BUSINESS WIRE)--KUKA Robotics Corporation, a leading global manufacturer of industrial robots, today announced it has been selected by Lawrence Technological University of Southfield, Michigan, to provide robots for its master of science in Mechatronic Systems Engineering (MSMSE) degree program, the first of its kind in the United States.
KUKA KR3 robots and KUKA Sim Pro simulation software will be the centerpiece of the university's new laboratory created for the program where students will be learning robotics programming and application simulation. The university plans a campus open house April 28th from 11am to 4pm at which attendees can tour the new lab and learn about the new program.
''The mechatronics degree is very popular in Europe and Asia, and Lawrence Tech saw the need for a similar offering here in the U.S. With the KUKA products we can offer a truly hands on real world learning experience,'' said Dr. Vladimir Vantsevich, professor of mechanical engineering and director of the new master of science degree program in Mechatronic Systems Engineering at Lawrence Tech.
''The need for robotic engineering expertise will increase exponentially as technology advances, and quality programs such as Lawrence Tech's mechatronic systems master's program will play an important role,'' said Stu Shepherd, president of KUKA Robotics Corporation. ''We are very proud to be a participant in this very important and much-needed offering.''
The KUKA KR3 three kilogram robots are being used in graduate-level courses including Analytical and Adaptive Dynamics, Mechanical Design of Mechatronics Systems/Robots, Mechatronic Systems Implementation, and Adaptive Control and also in the undergraduate Introduction to Mechatronics course. The program web site and program brochures can be found at: http://www.ltu.edu/engineering/mechanical/mechatronics.asp
Lawrence Technological University, www.ltu.edu, offers more than 60 undergraduate, master's, and doctoral degree programs in Colleges of Architecture and Design, Arts and Sciences, Engineering, and Management. Founded in 1932, the 5,000-student, private university pioneered evening classes 75 years ago, and today has a growing number of weekend and online programs. Lawrence Tech's 102-acre campus is in Southfield, with education centers in Livonia, Clinton Township, Traverse City, and Petoskey. Lawrence Tech also offers programs with partner universities in Canada, Mexico, Europe, and Asia.
KUKA Robotics Corporation, with its parent company KUKA Roboter GmbH, Augsburg, Germany, is one of the world's leading manufacturers of industrial robots, with an annual production volume approaching 10,000 units, and an installed base of over 75,000 units. The company's 5 and 6 axis robots range from 3kg to 570kg payloads, and 635mm to 3700mm reach, all controlled from a common PC based controller platform. KUKA robots are utilized in a diverse range of industries including the appliance, automotive, aerospace, consumer goods, logistics, food, pharmaceutical, medical, foundry and plastics industries and in multiple applications including material handling, machine loading, assembly, packaging, palletizing, welding, bending, joining, and surface finishing. For more information contact KUKA Robotics at 866-873-5852 or visit their website at www.kukarobotics.com.
The KUKA logo is a registered trademark of KUKA Roboter GmbH. KUKA, and KUKA is a trademark of KUKA Roboter GmbH. All other trademarks are owned by their respective companies.
Contact
KUKA Robotics Corporation
Kevin Kozuszek, Director of Marketing,
248-819-0230 (voice)
866.329.5852 (fax)