KUKA Robotics Joins Partners in THINC
KUKA Robotics joins Partners in THINC to enhance customer relationships with hands-on solution development and testing at the Partners in THINC facility in Charlotte, North Carolina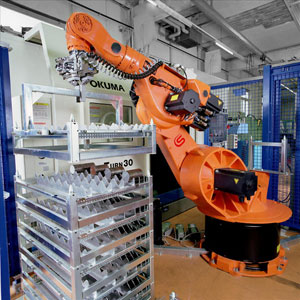 Clinton Township, MI – KUKA Robotics Corporation joins Partners in THINC. This collaborative environment and technology center, created by Okuma America Corporation, connects leading technology providers and creates a partnership that will provide the lowest cost, best solution to meet the needs of manufacturing worldwide. The Partners in THINC facility provides a noncompetitive meeting ground where more than 30 innovative companies share their expertise, testing new ideas and sharpening solutions for real world manufacturing industry settings through the power of THINC®. KUKA Robotics will have a robotic demonstration, testing, and training cell at the facility.

"We are proud to join Partners in THINC" stated James Cooper, Vice President Sales and Marketing, KUKA Robotics Corporation. "Partners in THINC is an exceptional fit for KUKA Robotics. We are committed to helping companies develop and implement solutions to optimize their production to become quicker, more efficient and accurate." Through Partners in THINC, KUKA Robotics will enhance customer relationships through hands on development, testing and sharing of solutions with customers on site at the facility in Charlotte, North Carolina.

"Combining the technology of KUKA Robotics common PC-based controller platform with Okuma's THINC control, end-users will have the ability to implement and operate automated manufacturing processes with ease." commented Stu Shepherd, President KUKA Robotics Corporation. End-users will also be able to see the effectiveness of these technologies demonstrated at the Partners in THINC facility in Charlotte."

About the KUKA Robot Group
KUKA Robotics Corporation along with KUKA Roboter GmbH, Augsburg Germany (part of the KUKA Aktiengesellschaft group of worldwide companies), rank among the world's leading suppliers of industrial robots and material handling vehicles. Core competencies include the development, production, and sale of industrial robots, controllers, software, linear units, and omniMove™ omni-directional motion platforms. KUKA robots are utilized in a diverse range of industries including the appliance, automotive, aerospace, consumer goods, logistics, food, pharmaceutical, medical, foundry and plastics industries as well as multiple applications including material handling, machine loading, assembly, packaging, palletizing, welding, bending, joining, and surface finishing. KUKA robots range from 5kg to 1300kg payloads, and 635mm to 3900mm reach, all controlled from a common PC based controller platform. KUKA is the market leader in Germany and Europe, and number three in the world. The KUKA Robot Group employs about 2,000 people worldwide. Of these, 1,100 are employed in Germany, either at the KUKA Robot Group headquarters in Augsburg, or at various subsidiaries. In 2009, sales totaled 330,5 million Euro. Twenty-five subsidiaries provide a presence in the major markets of Europe, the Americas and Asia. For more information contact KUKA Robotics at 866-873-5852 or visit their website at www.kukarobotics.com.

About Okuma America Corporation:
Okuma America Corporation is the US based affiliate of Okuma Corporation, a world leader in the development of computer numeric controls (CNC) and machining technology, founded in 1898 in Nagoya, Japan. Known for its technology leadership and world-class manufacturing, product quality and dedication to customer service, Okuma strives to be the machine tool solution provider to manufacturers worldwide. For more information, visit www.okuma.com.

About Partners In THINC
Partners In THINC is a unique facility and concept offering integrated solutions and a one-stop-shop designed to streamline current manufacturing processes, improve capabilities, or for exploring advanced manufacturing options. Each member of Partners in THINC brings specialized equipment, expertise and a commitment to provide the best possible integrated solutions to the end-user. For more information, visit www.partnersinthinc.com.