KUKA Robotics Introduces New Food Series Robots Pack Expo at Booth E-7758
KUKA Robotics Corporation, a leading global manufacturer of industrial robots, will introduce its new Food Series Option at Pack Expo booth #E-7758.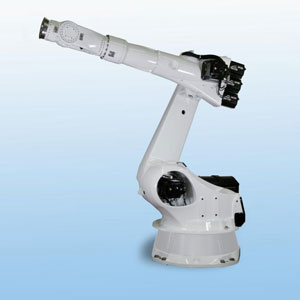 The new KUKA Food Series Option is available on a variety of robots designed for packaging and palletizing application, including KR 40 PA, KR 50 PA, KR 100-2 PA, KR 180-2, PA & KR 150. These units offer robotic solutions from 2-axis packaging, 4-axis palletizing, and 6-axis palletizing & handling. A significant feature of the Food Series option is that taking options already available from KUKA, and re-packages them for the Food Series option incorporated onto a select group of current KUKA products.
The Food Series option includes a robot arm IP-65 protection rating, food grade oil in the robot reducers, USDA certifiable white robot coating selected to withstand common industry sanitizers, and a stainless steel robot control cabinet.
"The new Food Series option allows KUKA robots to meet the requirements of the food industry. The ability for robots to operate in wet environments, and common industry sanitizers is an important requirement of our food processing customers" said Stuart Shepherd, President of KUKA Robotics Corporation.
"The broad range of products on which the Food Series option is available allows KUKA to be in the unique position to offer a Food Series product from 2-axis packaging up through multiple palletizing products", said Shepherd.
KUKA Robotics Corporation, with its parent company KUKA Roboter GmbH, Augsburg, Germany, is one of the world's leading manufacturers of industrial robots, with an annual production volume approaching 8,000 units, and an installed base of over 75,000 units. The company's 4, 5 and 6 axis robots range from 5kg to 1000kg payloads, and 635mm to 4000mm reach, all controlled from a common PC based controller platform. KUKA robots are utilized in a diverse range of industries including the appliance, automotive, aerospace, consumer goods, logistics, food, pharmaceutical, medical, foundry and plastics industries and in multiple applications including material handling, machine loading, assembly, packaging, palletizing, welding, bending, joining, and surface finishing. For more information contact KUKA Robotics at 866-873-5852 or visit their website at www.kukarobotics.com.
About the KUKA Robot Group
KUKA Roboter GmbH, Augsburg, is a member of the KUKA Aktiengesellschaft and ranks among the world's leading suppliers of industrial robots. Core competencies are the development, production and sale of industrial robots, controllers, software and linear units. The company is the market leader in Germany and Europe, and the number three in the world. The KUKA Robot Group employs about 2,000 people worldwide. Of these, 1,200 are employed in Germany, either at the KUKA Robot Group headquarters in Augsburg, or at various subsidiaries. In 2007, sales totaled 413 million euro. 25 subsidiaries provide a presence in the major markets of Europe, America and Asia.
Media Contact
Rebecca Markel
Marketing Manager
22500 Key Drive
Clinton Township, MI 48036
USA
Phone: 586-465-8855
www.kukarobotics.com