KUKA Robotics Corporation Debuts the LBR iiwa to North America at Automate 2015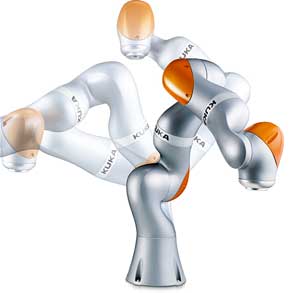 Shelby Township, MI / Chicago, IL – KUKA Robotics will exhibit among hundreds of world-class robotic industry suppliers at Automate 2015 Chicago in booth 840. Automate is the largest solutions-based showcase of automation technologies in North America.

KUKA Robotics will debut the lightweight robot LBR iiwa – intelligent industrial work assistant –an intelligent helper for industrial tasks it opens up new fields of application in service and medical robotics. It is sensitive, compliant, precise and flexible, and is equipped with mechanical systems and drive technology for industrial operation. It makes it possible to automate delicate and complex automation tasks in which the use of robots was previously inconceivable.

KUKA Robotics will feature an interactive demo of the LBR iiwa collaborative robot making full use of it's features, the display will include both the industrial and medical versions. With its sensitivity, the LBR iiwa has also opened up a new chapter in human-robot collaboration, i.e. direct cooperation between the human operator and the robot. It acts as the "third hand" of the operator and can work directly with humans, without the need for safety fencing. The LBR iiwa can relieve the human operator of arduous, non-ergonomic tasks and awkward jobs in uncomfortable positions allowing, the worker to take over other responsibilities. The lightweight robot can be used in confined interiors and locations and when placed on a mobile platform, the LBR iiwa can bring support wherever needed.

Get up close and personal with the complete KR AGILUS family of small robots on display. The KR AGILUS is unique in its payload category; setting new standards with 6 axes, very high speeds, short cycle times, and integrated energy supply system – all three models will be shown side by side, the KR6 R700, KR6 R900 and the KR10 R1100.

Check out hands on learning with KUKA KORE the KUKA Official Robotic Education Package for STEM Education. The KUKA Robotics KORE program offers high schools, technical centers, community colleges and universities the opportunity to incorporate Certificate based robot education on KUKA products into their STEM, Advanced Manufacturing and Mechatronics programs. With the KUKA KORE package,students will learn basic robot programing and operation skills on exercise hardware utilizing the same robots and control technology utilized in a variety of industries. Put KUKA at the KORE of your STEM program!

About the KUKA Robot Group
KUKA Robotics Corporation along with KUKA Roboter GmbH, Augsburg Germany (part of the KUKA Aktiengesellschaft group of worldwide companies), ranks among the world's leading suppliers of industrial robots and material handling vehicles. Core competencies include the development, production, and sale of industrial robots, controllers, software, linear units, and omniMove™ omni-directional motion platforms. KUKA robots are utilized in a diverse range of industries including the appliance, automotive, aerospace, consumer goods, logistics, food, pharmaceutical, medical, foundry and plastics industries as well as multiple applications including material handling, machine loading, assembly, packaging, palletizing, welding, bending, joining, and surface finishing. KUKA robots range from 5kg to 1300kg payloads, and 635mm to 3900mm reach, all controlled from a common PC based controller platform.