KUKA Receives ATI's Customer Appreciation Award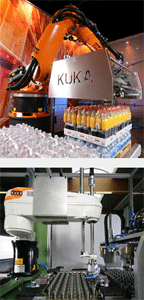 ATI Industrial Automation recently presented KUKA Robotics and KUKA Systems with ATI's Customer Appreciation Award. ATI launched the program to recognize customers and partners that are dedicated to working together to produce the most reliable and flexible productivity solutions available.
KUKA is one of the worldwide market leaders in industrial robots. Founded in 1898 with headquarters in Augsburg, Germany, KUKA created the world's first industrial robot with six electromechanically-driven axes in 1973. Today the company's 4- and 6-axis robots range from 5 kg to 1300 kg payloads, and 635 mm to 3900 mm reach, all controlled from a common PC based controller platform. KUKA robots are utilized in a diverse range of industries including the appliance, automotive, aerospace, consumer goods, logistics, food, pharmaceutical, medical, foundry and plastics industries as well as multiple applications including material handling, machine loading, assembly, packaging, palletizing, welding, bending, joining, and surface finishing. With over 100 years and over 80,000 installed robots worldwide, KUKA Robotics and KUKA Systems have been supplying industrial robotics and industrial automation solutions; from stand alone welding cells, complete automated body shops, wing assembly lines, order fulfillment line in food & beverage, KUKA Robotics and KUKA Systems provide products and solutions that exceed customer's expectations with employees consisting of the best managers, engineers, technicians, craftsmen, electricians, and systems solutions providers in the industry globally.