KUKA Quality Comes Out on Top in Red Dot Design Competition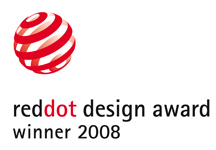 Since 1995, the Design Zentrum Nordrhein-Westfalen has been awarding its famous "red dot" to outstanding examples of international product design, bestowing on its winners a globally recognized seal of quality. The award is the result of a close alliance between design know-how and the art of engineering.

The 3,203 products entered in the competition were evaluated not only on the basis of design aspects, but also criteria such as innovation, ergonomics and environmental compatibility. The KUKA KR 16 scored, for its very low particle emission, and its versatility and flexibility. The KR 1000 titan impressed the jury with its prodigious strength. The powerful, streamlined design was also rated very highly. As well as being graceful to the eye, both robots offer long service life and the accustomed KUKA Roboter quality.

For KUKA Roboter, the design accolade is renewed confirmation of its creativity, innovative drive and technological leadership. It has always been the KUKA's motivation and goal to bring its customers added value in service, quality and performance with each and every product. Having this approach recognized by Red Dot Design award reaffirms the KUKA motivation and goals.
For more information contact KUKA Robotics Corp. at
Web: www.kukarobotics.com
About the KUKA Robot Group
KUKA Roboter GmbH, Augsburg, is a member of the KUKA Aktiengesellschaft and ranks among the world's leading suppliers of industrial robots. Core competencies are the development, production and sale of industrial robots, controllers, software and linear units. The company is the market leader in Germany and Europe, and the number three in the world. The KUKA Robot Group employs about 2,000 people worldwide. Of these, 1,200 are employed in Germany, either at the KUKA Robot Group headquarters in Augsburg, or at various subsidiaries. In 2007, sales totaled 413 million euro. 25 subsidiaries provide a presence in the major markets of Europe, America and Asia.