Kollmorgen - Support for Multiple Motion Buses
Multi-bus functionality from a single product speeds bench testing and prototyping, while simplifying the transition for OEMs from one bus type to another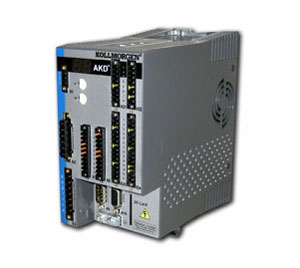 RADFORD, VA – Kollmorgen's AKD™ servo drives now support the functionality of the base analog drive, indexing drive, CANopen® drive and EtherCAT® drive all from a single drive SKU. This enables printing, packaging, converting, medical and other machine builders to benefit from more efficient bench testing and prototyping, while enabling them to smoothly transition from one bus type to another.
"Where most servo drive hardware and firmware support just a single motion bus, a single AKD servo drive supports multiple motion buses that would otherwise require two different sets of hardware and firmware. With a simple parameter change and a power cycle, machine builders can quickly and easily change the AKD's communication protocol between EtherCAT and CANopen giving them a clear competitive advantage in getting new and better machines to market, faster," says Josh Inman, Product Manager, Kollmorgen, North America.
AKD servo drives are also uniquely capable of supporting a variety of feedback devices and Ethernet motion buses from the base hardware, without the need for any separate option cards. Currently supported feedback devices include Smart Feedback Devices (SFD), Endat, BiSS, Analog Sine/Cos encoders, incremental encoders, HIPERFACE® and resolvers. In addition to EtherCAT and CANopen motion buses, the AKD supports SynqNet®, PROFINET, EtherNet/IP and Modbus/TCP.
Because these capabilities are available within the dimensions of the base product, AKD servo drives maximize quality and operational flexibility while reducing costs and overall footprint increases associated with integrating option cards. As a result, machine builders are able to standardize on a single drive family with a common Graphical User Interface (GUI) across the power range to deliver optimized machine performance, throughput and accuracy across multiple applications, while minimizing engineering time and costs associated with stocking, understanding and programming multiple types of drives.
"AKD is specifically designed with the versatility, communications, and power that OEMs need to expand machine performance and increase integration speeds. The AKD facilitates true plug-and-play operation with standard Kollmorgen servomotors and linear positioners to get an optimized, high-performance system up and running quickly, in less space and for less cost, than lower performing options. Multiple Ethernet connectivity options available from the base hardware support a variety of open and closed protocols, without the need for separate option cards. And a broad power range in a smaller, compact design enables machine builders to use these robust drives with a single interface," explains Inman.
Additional features and benefits include:
120/240 VAC or 480 VAC operation, with a power range of 3 to 24 Arms continuous current, 9 to 48 Arms peak
Auto-tuner can help overcome less-than-perfect mechanical designs and help machine builders solve even the most challenging scenarios by compensating for compliant transmissions and couplings that would otherwise rob a machine of its intended performance
With up to 27-bit resolution, the AKD delivers the industry's lowest noise characteristics for improved machine precision
Powerful dual processor system executes industry-leading servo algorithms with high resolution for very fast settling times
Easy-to-use GUI features a six-channel real-time software oscilloscope for fast commissioning and diagnosis
AKD servo drives are rated for operation in ambient temperatures ranging from 0°C to 40°C (up to 55°C with de-rating), and boast a robust MTBF of nearly 660,000 hours. They conform to Category 3/Sil2 and RoHS standards, meet the insulation requirements of IEC60601, are UL listed and carry the CE mark.
ABOUT KOLLMORGEN
Kollmorgen is a leading provider of motion systems and components for machine builders around the globe, with over 70 years of motion control design and application expertise.
Through world-class knowledge in motion, industry-leading quality and deep expertise in linking and integrating standard and custom products, Kollmorgen delivers breakthrough solutions unmatched in performance, reliability and ease-of-use, giving machine builders an irrefutable marketplace advantage.