Kollmorgen Launches New Version of Motioneering: A Faster, Feature-Rich Online Servo Sizing Tool for Machine Builders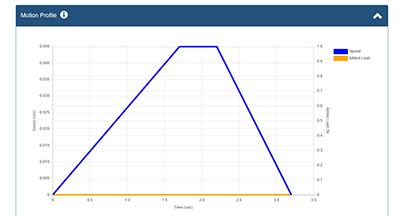 RADFORD, VA – Kollmorgen has introduced the next generation of Motioneering, the company's innovative servo sizing tool. Motineering was introduced more than 20 years ago – the first tool of its kind – to help mechanical design engineers find the ideal motion products to build into their machines. It streamlines and simplifies the design process by incorporating 100+ years of Kollmorgen expertise about which motion solutions work best for specific applications such as factory automation, robotics, material forming, and many others.
The next generation of Motioneering is faster and more intuitive, offers customizable-to-application requirements, allows the side-by-side comparison of multiple systems, and enables user access to the latest products and updates.
Key updates include:
Enhanced product filtering that allows engineers to pinpoint which product family or families are most suitable for an application.
New details for each potential design solution, giving users a more complete picture of each option's relative advantages. For example, safety margins (% margin) show how much speed and torque are available beyond what is needed for the application.
The ability to customize parameters and units of measurement for each project. Once defined, these parameters will carry through each axis in a project.
Updated S-curve profile: Jerk reduction can be adjusted from 0 to 100% (linear to full S-curve acceleration).
Motioneering is part of a full suite of online design tools that Kollmorgen has created to help engineers accelerate design cycles and simplify the process of selecting an optimal motion solution. The full toolset also includes:
Product Selector: Allows users to enter parameters, such as motor torque and speed requirements or enter current and voltage requirements for a drive to identify and compare Kollmorgen products and find the best fit for an application.
Performance Curve Generator: Adjusts winding factor, ambient temperature, drive current, and more to generate speed/torque curves for frameless and housed motors.
Interactive 2D/3D Modeling: Configures 2D & 3D drawings that can be imported into users' CAD systems.
Engineer's Toolbar: Provides quick and easy reference to material densities, trigonometric functions, inertia calculations and unit conversions.
ABOUT KOLLMORGEN
Since its founding in 1916, Kollmorgen's innovative solutions have brought big ideas to life, kept the world safer, and improved peoples' lives through its world-class knowledge of motion systems and components, automated guided vehicle software, and industry-leading quality. Kollmorgen's deep expertise in linking and integrating standard and custom products continually delivers breakthrough motion solutions that are unmatched in performance, reliability, and ease-of-use. Kollmorgen solutions give machine builders around the world an irrefutable marketplace advantage, while providing their customers with ultimate peace-of-mind.