Kollmorgen Introduces KSM safe motion modules
Kollmorgen Safety Modules™ (KSM) help OEMs deliver higher productivity by combining Machine Safety logic and Safe Motion into one powerful package that integrates seamlessly with Functional Safety Devices.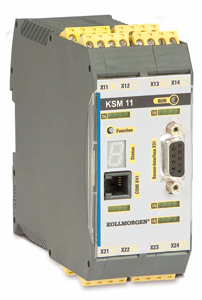 RADFORD, VA – With KSM, Kollmorgen has launched a smart and expandable platform for machine builders to quickly and seamlessly integrate Safe Motion as part of Functional Safety-certified solutions. "Safe Motion functionality allows machines to run in a safe manner when an operator is in the workspace, without stopping the machine by STO and causing unnecessary downtime," explains Karl Pickan, a Kollmorgen Safety certified expert. KSM combines the functionality of a Safety PLC with Safe Motion functions into one compact system with Kollmorgen AKD® drives and automation controllers. This simplifies the integration of newer Safe Motion and sensor equipment. KSM Safety Controllers are TUV certified for machines that require ISO 13849 PLe and IEC 61508 SIL3 level functionality.
KSM is capable of fifteen different Safe Motion functions, including Safe Torque Off (STO), Safe Stops (SSX), Safe Limited Speed (SLS), Safe Limited Position (SLP), and Safe Brake Control (SBC), just to name a few.

The KSM functional safety system can simultaneously monitor up to twelve axes in a single system. Each module can safely monitor standard feedback devices such as resolvers as well as both single- and multi-turn versions of EnDat™, BiSS, and HIPERFACE® devices.
KSM is designed to operate with Kollmorgen's motors & transmission (such as gearing and actuation), servo- and inverter drives, and machine- and motion controllers. KSM can connect seamlessly and easily to EtherCAT, Profinet, and CANopen devices; thus allowing a general PLC or automation controller to connect into the safety system as well.

A wide range of KSM I/O expansion modules are available to simply and quickly architect the right functional safety subsystems for any machine. Up to 200 safe inputs and outputs are possible on a single module.

Kollmorgen offers machine builders a complete Functional Safety system that fits the entire range of servo motion when paired with the Kollmorgen AKD servo drives and Kollmorgen Automation Suite™ machine controls. "We have taken the guesswork out of integrating a motion system with certified motion- based safety functions. You can quickly realize the productivity-gain potential of functional safety with ease and confidence," says Reid Hunt, Product Manager.
ABOUT KOLLMORGEN
Kollmorgen is a leading provider of motion systems and components for machine builders around the globe, with over 70 years of motion control design and application expertise. Through world-class knowledge in motion, industry-leading quality and deep expertise in linking and integrating standard and custom products, Kollmorgen delivers breakthrough solutions unmatched in performance, reliability and ease-of-use, giving machine builders an irrefutable marketplace advantage.