Kollmorgen Gives Away Segway® x2 Personal Transporter at PACK EXPO 2012
Hank Whetstone of Whetstone Industries named winner of off-road Segway x2 driven by innovative Kollmorgen motion technology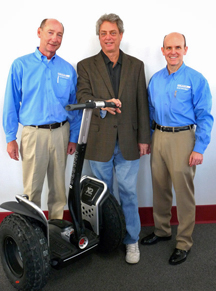 RADFORD, VA – Kollmorgen announces that Hank Whetstone of Whetstone Industries is the winner of the company's Segway® x2 Personal Transporter (PT) giveaway at PACK EXPO 2012. The Segway x2 is driven by an innovative Kollmorgen electric motor that delivers 40% more torque per unit of volume than comparably sized motors. The Segway x2 is a rugged, self-balancing, electric-powered transportation device designed to provide a smooth and stable ride over a variety of terrain – from the backyard to more challenging off road environments. "I look forward to enjoying my new Segway x2," says Whetstone.

"Motion enables machines to do amazing things, and Kollmorgen is proud of the innovative motion solutions we bring to market and how they help OEMs develop a competitive advantage," says Andy Hansbrough, Market Development Manager. "It was truly exciting to exhibit those capabilities in the context of processing and packaging machines at PACK EXPO 2012, and in more fun and practical applications. It was also incredibly fun to give away a Segway x2 knowing that it is driven by Kollmorgen motion technology."

"The Segway PT is a very interesting use of servo technology, and I was surprised and glad to learn that the motors are designed and built in the USA," says Whetstone. "Knowing that gets me excited, because I thought the Kollmorgen engineer I spoke with at PACK EXPO really knew what I was talking about and could help with my project. So if I can partner with Kollmorgen on my new application – and I've yet to find another company that can do it – I've got the world leader I can look to right here in the USA."

Kollmorgen's standard technology platforms are ideal for a wide variety of high-performance applications because they are easily customized to meet the specific needs of customers and the Segway x2 was no exception. The Kollmorgen electric motor utilized in each Segway PT has features that are unique to brushless servomotor technology, and some not seen on motors of any type.

"A unique sensor design provides precision feedback to the motor's drive electronics without the need for a traditional encoder or resolver, and a patented hemispherically-wound stator features redundant windings – effectively providing two completely functioning motors in one shell," explains Hansbrough. "This means that if one set of windings were to fail completely, the motor can continue to operate. As an offshoot of this winding technology, the motor's size is substantially reduced."

The motor's construction also uses a proprietary injection-molding process to mold key components of the motor and encapsulate the windings in one step. This process simplifies manufacturing and brings the added benefits of higher quality and improved motor performance.

ABOUT SEGWAY
Segway Inc., based in Bedford, New Hampshire, is the world's leading provider of personal electric transportation. Segway markets a full line of zero-emissions Personal Transporters (PT) for indoor, sidewalk, cross-terrain and patrol use. All deliver impressive energy efficiency equivalent to 450 miles per gallon. The company's comprehensive line of Robotic Mobility Platforms (RMPs) is based on PT technology that has been adapted to provide versatile, durable mobility solutions to researchers, academia and robotic integrators.
Segway Inc. has a worldwide network of more than 250 distributors, dealers and experience centers in 80 countries across the globe, offering product and unique touring experiences.

ABOUT KOLLMORGEN
Kollmorgen is a leading provider of motion systems and components for machine builders around the globe, with over 70 years of motion control design and application expertise.

Through world-class knowledge in motion, industry-leading quality and deep expertise in linking and integrating standard and custom products, Kollmorgen delivers breakthrough solutions unmatched in performance, reliability and ease-of-use, giving machine builders an irrefutable marketplace advantage.

Company Contact:
Linda Mecimore
Kollmorgen
540.633.3500
Agency Contact:
Chris Nelson
Longren & Parks
612.237.4443