Kollmorgen Celebrates 100 Years of Innovation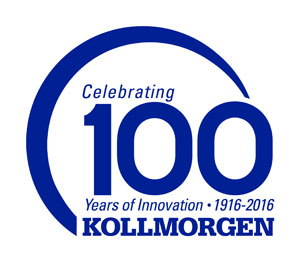 RADFORD, VA – Kollmorgen, a leading provider of motion systems and components, celebrates 100 years of innovation in 2016 while continuing to introduce pioneering product solutions that adeptly perform in critical, demanding, and diverse environments.
Since the introduction of founder Dr. Friedrich Kollmorgen's patented two-telescope design in 1911, and the incorporation of Kollmorgen Optical Corp. in New York on March 22, 1916, the company has successfully grown by merging with like-minded visionaries, such as Norman Macbeth, president of Macbeth Daylighting Company; Hugo Unruh, founder of Inland Motor; and Robert Swiggett, printed circuit board inventor from Photocircuits Corp. Kollmorgen's motors, drives and controls are relied on to perform in all types of applications, including the Mars Rover and International Space Station; ships and submarines; O&G drilling and metrology; surgical robots and laser eye surgery; and even at work in artifical hearts.
INNOVATION HIGHLIGHTS
The dominant U.S. periscope manufacturer from World War I to 1958; in the mid-70s, became the leading supplier of submarine periscopes in international markets; in the late 80s, combined viewing sensors and electro-magnetic sensors in a single, non-penetrating mast for the Defense Advanced Research Projects Agency (DARPA).
The sole source supplier of auxiliary sights for the M-1 tank and Bradley Fighting Vehicles throughout the 1980s.
In the late 70s, pioneered rare earth magnet motors and servo-controlled bearings that used the force of a magnetic field to levitate a rotor and eliminate mechanical contact.
Powered a specially designed robot, the Jason Jr., that researcher Dr. Robert Ballard used to telepresent images of the RMS Titanic on July 26, 1986.
Deployed laser navigation for warehousing automation in Singapore in 1997, the first of its kind to gain acceptance in Asian and global markets.
Utilized in the da Vinci Surgery System, the first robotic surgery system approved by the FDA for general laparoscopic surgery in 2000.
Helped build the world's first successful self-contained artificial heart and Left Ventricular Assist Device (LVAD) in 2001.
Launched SynqNet®, a fast, interoperable motion and I/O network that enabled a synchronous real-time connection between the motion controller, servo drives, I/O modules, and custom nodes. SynqNet was the first platform to use industry and consumer proven 100 BaseT CAT 5 cabling with standard connectors and a wide array of custom and other robust industrial connector types to drive the world's most demanding motion applications.
In 2002, the first Segway models, powered by a Kollmorgen electric motor that delivers 40% more torque per unit of volume than comparably sized motors, were sold to the public.
PiCPro® made a mark on the Machine Tool industry in 2005 and became one of the leading control software in applications focusing on precision motion.
Introduced the Pick-n-Go concept in 2007, automating standard forklifts in order picking processes.
Stainless Steel AKMH™ Series Motor introduced in 2014 for strict aseptic machine applications.
Produced an energy efficient motor stator in 2015, reducing the power consumption of the HeartAssist5® Left Ventricular Assist Device (LVAD) by 50%.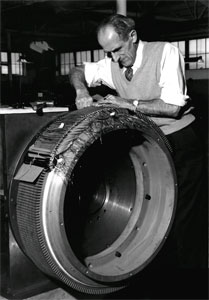 "A determination to find a solution for unique challenges has helped us achieve engineering excellence and true product differentiation throughout our storied history. It's in our DNA to be the best at solving motion challenges, no matter how difficult, through collaboration with our end users, customers, suppliers, innovation partners, and each other," said John Boyland, Vice President of Engineering at Kollmorgen.
Kollmorgen President Dan St. Martin added, "It is truly an honor and privilege to work for a company that is 100 years old. Very few organizations are able to attain a century of innovative solutions. Our success stems from the daily efforts of our associates in every corner of the world, who bring the company's vision to life: Enabling Innovators to Make the World a Better Place."
Kollmorgen's rich heritage of innovation can be explored further by visiting the history page on the Kollmorgen website. A comprehensive timeline of the company's history and Kollmorgen's "100 years of Innovation" eBook can be viewed on the Kollmorgen website as well.
About KOLLMORGEN
Since its founding in 1916, Kollmorgen's innovative solutions have brought big ideas to life, kept the world safer, and improved peoples' lives. Today, its world-class knowledge of motion systems and components, industry-leading quality, and deep expertise in linking and integrating standard and custom products continually delivers breakthrough solutions that are unmatched in performance, reliability, and ease-of-use. This gives machine builders around the world an irrefutable marketplace advantage and provides their customers with ultimate peace-of-mind.
Company Contact
Linda Mecimore
Tel: 540.633.3688
PR Contact
Julie Eleftheriou
Tel: 952.913.3065