Kollmorgen and Optiscan Group Announce Partnership for Pick-n-Go Solutions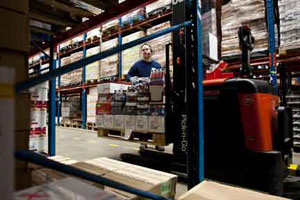 Kollmorgen, a leading manufacturer of driverless control technology, and Optiscan Group, the market leader for voice-directed warehousing solutions in the Nordic and Baltic countries, have reached a strategic partnership agreement, whereby Optiscan will license and integrate Kollmorgen's NDC Suite technology in warehouse applications for automated order-picking and operatorless transport applications. For automated order picking applications, Optiscan has obtained the right to use Kollmorgen's Pick-n-Go® brand.
"With a market share of 30 percent and an installed base of 15,000+ vehicles, Kollmorgen is the industry expert in control solutions for driverless vehicles and forklifts. Partnering with Optiscan is truly a win-win in that our Pick-n-Go solution allows them to further simplify warehouse operations in order to improve productivity and reduce costs for their customers. The Kollmorgen solution allows for the perfect combination of Pick-n-Go together with voice directed picking, which leaves the pickers with full focus on fulfilling the actual pick assignments rather than having to manually enable any truck movements," says Henrik Eriksson, Business Unit Manager, Kollmorgen.
Optiscan will implement driverless control solutions together with pick-by-voice systems and OptiCare™ services.
Pick-n-Go from Kollmorgen is a highly flexible order picking system that streamlines any order fulfillment process, with significantly reduced operating expenses. The Pick-n-Go system seamlessly integrates with existing Warehouse Management Systems and established processes, and is easily adapted to satisfy specific application needs. In many applications, the Pick-n-Go system will give improvements in order picking productivity of over 60% and pay for itself in just 12 – 24 months.
NDC Suite from Kollmorgen is a complete automated guided vehicle (AGV) control solution that promises lower total costs for system integrators and end-users. The heart of NDC Suite is the NDC8 – Kollmorgen's applications-independent and scalable control module that works with all AGVs, from the small and simple to the big and complex. It is also easy to integrate with host systems and material handling systems, and because the same platform is used everywhere, the same engineering skill set applies for all types of applications.
ABOUT OPTISCAN
Optiscan Group is the leading system and solution provider for voice-directed warehousing solutions within the Nordic and Baltic countries. Optiscan Group is headquartered in Espoo, Finland, with subsidiaries in Sweden, Norway and Denmark.
Optiscan's core competence is providing business improvement solutions for warehousing, manufacturing and field automation applications. Verified results are achieved through improved efficiency and accuracy, new operation models and real-time transactions. Optiscan solutions are always based on the customer's business needs and operational environment. Using Voice in warehousing has proven to be the ultimate solution for guiding operations in real-time while simultaneously increasing productivity and reducing errors.
Optiscan provides complete solutions consisting of consulting, system integration, hardware and support.
The company's OptiCare™ professional services provide industry-leading expertise for projects, ranging from process analysis to project management as well as high quality service and support for daily operations.
ABOUT KOLLMORGEN
Kollmorgen is a leading provider of motion systems and components for machine builders around the globe, with over 60 years of motion control design and application expertise. Through world-class knowledge in motion, industry-leading quality and marketshare, and 35 years of proven performance in driverless control technology, Kollmorgen continues to deliver breakthrough driverless control solutions unmatched in performance, reliability and ease-of-use, giving warehouse operations an irrefutable marketplace advantage. Kollmorgen technology and expertise was integral to the world's first automobile production plant with driverless vehicles (1972), laser-guided vehicle (1990), Pick-n-Go system (2007) and 170 metric ton driverless vehicle with 16 controlled wheels (2009).