Kollmorgen AKM™ Motor and ACS Controller Drive Virginia Tech's BOLT Electric Motorcycle to Victory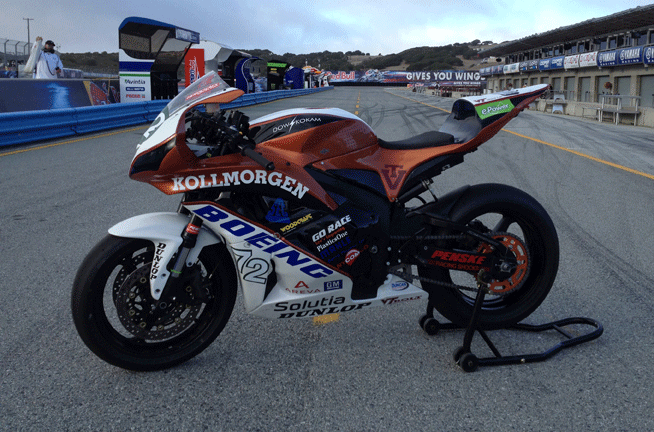 VT BOLT, Virginia Tech University's entry to the 2012 all-electric TTXGP is a 100 percent electric racing motorcycle driven by a low voltage Kollmorgen AKM™ 74 AC permanent magnet motor and a Kollmorgen ACS80XL 80V Gen6 drive. The results have been impressive, with the AKM motor and ACS drive enabling VT BOLT to achieve top speeds in excess of 100 mph with consistently high-performance throughout the duration of each approximately 20 mile race using a 7.5 kilowatt hour battery pack. VT BOLT was a recent first place winner of all three of its TTX75-cup races including Portland International Raceway, Laguna Seca Raceway and Miller Raceway, solidifying VT BOLT as the 2012 North American TTX75 Cup winner.
Virginia Tech's BOLT was designed to compete in the 75-class (7.5 kWh energy storage) motorcycle division. The idea was to develop a 100 percent electric motorcycle that could perform as fast as possible, while optimizing the energy stored in the battery to achieve maximum performance throughout each race. It also required just the right balance of torque and speed to accommodate the numerous turns common to GP racetracks, but without over-consuming power and compromising performance at the end of each race. Virginia Tech not only had to understand the technology, they needed to integrate the technology into a purpose-built racing machine. The VT BOLT design team turned to Kollmorgen for help and sponsorship.
"Kollmorgen's standard technology platforms are ideal for a wide variety of high-performance applications in that they are easily customized to meet the specific needs of a particular application, and the VT BOLT project was no exception," says Brad Monday, Design Engineer for Vehicle Systems, Kollmorgen. "We not only helped the VT BOLT team identify and integrate components into an optimized system, but with our sophisticated application support we were able to provide insight into how VT BOLT would perform on the track before it was built."
Kollmorgen worked with the team at Virginia Tech to identify the optimum drive/motor/gearing system that would enable VT BOLT to leverage the available power of the battery pack to deliver the best performance in terms of consumption and speed, ultimately specifying a Kollmorgen AKM motor and ACS drive.
According to Monday, the AKM74 motor was 75 percent standard and 25 percent modified to accommodate the unique needs of a high performance racing vehicle. Modifications included a modified shaft to accept a motorcycle sprocket, a custom drive side bearing to enable the motor to withstand the radial loads exerted on the shaft by the chain, and a modified motor winding to operate at the low voltage required by the 7.5 kWh battery pack.
The ACS80 is a 40 kW, or 54 HP, drive as standard. Kollmorgen delimited the drive for the VT BOLT application to enable higher power output (57.6 kW or 77.2 HP) for the shorter duty cycle and duration of the racing environment. Monday says that the Kollmorgen ACS80XL 80V Gen6 drive was a perfect fit for VT BOLT because the capabilities needed to deliver the desired performance were inherent in the drive.
"The particular ACS drive used in the VT BOLT motorcycle is commonly used in 4-5 ton forklift vehicles to control traction. For VT BOLT we simply modified the drive interface to accept this application and programmed it to formulate speed, throttle and power regeneration for braking, while also coordinating the rider interfaces through the drive," explains Monday. "Other drives in the ACS family are often used to control steering wheels and brakes, operate hydraulic pumps and perform overall vehicle control; ACS drives are fundamentally flexible enough to be used in an assortment of applications."
The AKM motor provides mid-ninety percent efficiencies and the ACS drive provides high-ninety percent efficiencies. Both are environmentally sealed to IP68, and are designed to withstand high vibration vehicle-type environments as standard.
The motor and controller convert DC power from the battery pack to AC power for the motor. The motor then takes the AC power and converts it to torque and speed to power the motorcycle's drivetrain. The drivetrain consists of two gears and a chain which are connected to the rear wheel of the motorcycle.
"This project was just a lot of fun from start to finish for everyone involved," says Monday. "It was a great opportunity to work with engineering students and to push the limits and boundaries of products to achieve high performance in a unique application. Additionally we get to share the finished product with Kollmorgen associated back at the plant to see and enjoy firsthand."
Virginia Tech's BOLT Electric Motorcycle will be on display at Kollmorgen booth 7566 at PACK EXPO 2012 from October 28 – 31, 2012, at McCormick Place in Chicago, Illinois. Kollmorgen will also be exhibiting its family of high-performance motion systems, components and services. The Kollmorgen booth will feature numerous live demos, including interactive hands-on opportunities for visitors, to illustrate the performance capabilities of the latest motion and automation technology in action.
ABOUT KOLLMORGEN
Kollmorgen is a leading provider of motion systems and components for machine builders around the globe, with over 70 years of motion control design and application expertise.
Through world-class knowledge in motion, industry-leading quality and deep expertise in linking and integrating standard and custom products, Kollmorgen delivers breakthrough solutions unmatched in performance, reliability and ease-of-use, giving machine builders an irrefutable marketplace advantage.