Kollmorgen - AKI Series Keypad HMI Panels
AKI Series facilitates reliable and accurate user inputs, even with gloved hands, in packaging, food & beverage, and coating applications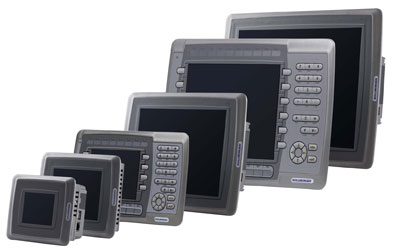 RADFORD, VA – Kollmorgen introduces keypad versions of its AKI Series HMI Panels. AKI series keypad visualization solutions help maintain screen clarity and provide tactile feedback to gloved users or users with soiled hands. This helps increase accuracy and productivity in dirty or greasy environments by enabling users to enter accurate input and receive accurate data. AKI series keypad HMI panels are available in 5.7 in. and 10.4 in. screen sizes, and are equipped with LED status indicators to give users further confidence that inputs are correct. AKI touchscreen HMI models are also available in a variety of sizes and configurations to suit varied application needs.

"In oily or sticky environments touchscreen display and input surfaces can be soiled by users and lack the tactile feedback needed to consistently enter correct inputs. Keypad-type HMI panels can be a superior performing and productivity enhancing solution in challenging packaging, food and beverage, and coating application environments," says Kevin Liu, Product Manager. "Kollmorgen's new AKI series keypad HMI panels enable reliable user inputs without sacrificing screen readability, and provide gloved-users with greater key-press accuracy and 'feel' for enhanced usability and productivity. These panels are built to last, and deliver a modern industrial design and world-class graphics that will withstand the rigors of industrial environments for years to come."

AKI Series HMI Panels are programmed using the Kollmorgen Automation Suite Visualization Builder™ software. As part of a Kollmorgen Automation Suite™ system or as a stand-alone solution used with AKD™ servo drives, keypad and touchscreen HMI panels are available with a variety of templates for common process screens, as well as drive operations and configurations, to help users quickly and easily build even sophisticated interfaces. And when developed within Kollmorgen Automation Suite projects, Kollmorgen Automation Suite Visualization Builder further simplifies and accelerates the design cycle with an automatic variable/tag configuration that enables designers to bypass rudimentary tasks and concentrate on style and function.
ABOUT KOLLMORGEN
Kollmorgen is a leading provider of motion systems and components for machine builders around the globe, with over 70 years of motion control design and application expertise.

Through world-class knowledge in motion, industry-leading quality and deep expertise in linking and integrating standard and custom products, Kollmorgen delivers breakthrough solutions unmatched in performance, reliability and ease-of-use, giving machine builders an irrefutable marketplace advantage.