Kollmorgen AKD®2G Servo Drive Honored as Finalist in 2019 Design News Golden Mousetrap Awards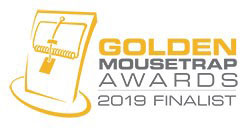 RADFORD, VA – Kollmorgen has been named as a Finalist in the 2019 Design News Golden Mousetrap Awards for its AKD®2G Servo Drive. The annual Golden Mousetrap Awards celebrate the innovative people, companies, and technologies driving progress in product design, engineering, and manufacturing. Winners are selected from hundreds of entries by the Design News editorial team and a distinguished Advisory Board.
Launched in fall 2018, the dual-axis AKD2G is one of the most power-dense industrial servo drives on the market. It substantially reduces mains wiring, fuses, and filtering to save significant panel space and cost. The AKD2G features expandable I/O (without increasing the size), removable memory, dual-channel STO, and the first drive-resident graphic display in the industry. Other highlights include: Workbench interface, optimized hybrid connector, and speed – its multicore Compute Engine, Servo on a Chip, is far more powerful than other servo drives. The AKD2G's current loop update rate of 1.28µs accommodates changing load conditions immediately.
In seven of the past nine years, Kollmorgen has been recognized as a finalist or runner up for innovative products and technologies:

2018: TBMTM Frameless Brushless Motor
2017: PCMMTM Programmable Controller Multi-axis Master
2016: AKD-N Decentralized Servo System
2013: AKMHTM Hygienic Servo Motor
2012: AKD® PDMM
2011: Power Generation System
2010: AKD® Servo Drive
The 2019 Golden Mousetrap winners will be announced February 5 in a ceremony at the Anaheim Convention Center. The event is held in conjunction with Medical Design & Manufacturing (MD&M) West.
ABOUT KOLLMORGEN
Since its founding in 1916, Kollmorgen's innovative solutions have brought big ideas to life, kept the world safer, and improved peoples' lives. Today, its world-class knowledge of motion systems and components, automated guided vehicle navigation software, industry-leading quality, and deep expertise in linking and integrating standard and custom products continually delivers breakthrough motion solutions that are unmatched in performance, reliability, and ease-of-use. This gives machine builders around the world an irrefutable marketplace advantage and provides their customers with ultimate peace-of-mind.