KMT Robotic Solutions Introduces New Wind Turbine Blade Root End Cut & Drill System Offering
AUBURN HILLS, Mich. October 13, 2009 – KMT Robotic Solutions, Inc. today introduced its Root End Cut and Drill (RCD) Wet Processing Robotic Automation System for utility-scale composite Wind Turbine Blades. KMT's new Wet Processing System provides further improvements in both cycle time and dust management while continuing to build on its proven RCD technology.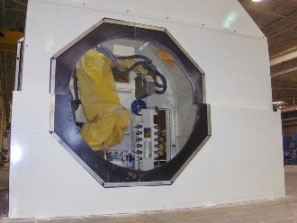 KMT has multiple RCD systems installed and successfully producing wind turbine blades. The Production Manager at a major North American supplier of utility size wind turbine blades said that "with the KMT system I have reduced my root end cutting and drilling cycle time by 2 hours per blade". Other customers have seen similar reductions in cycle time vs. existing CNC systems while maintaining the high precision and quality required in the preparation of the root end of wind turbine blades.
The KMT RCD system takes advantage of the company's patent-pending AccuFind® technology to quickly and accurately locate the wind turbine blades placed into the robot system for processing. This automated blade locating method saves significant set-up time for the operators, eliminating the need to make fine adjustments of the blade position required with CNC systems. "KMT's approach to Root End Cut and Drill was to leverage our experience in automating the trimming of large composite parts. We did that by utilizing our patent-pending AccuFind technology to eliminate a majority of the set-up time that blade manufacturer's were being forced to accept with the alternative technologies available", said Development Manager Chuck Abrams. "We use this technology to locate the root end center and when desired by the manufacturer, to locate the entire blade in 3D space so that the blade length and zero pitch offset can be determined."
"As demand for wind turbines continues to grow, our customers continue to look for cost effective ways to meet this increased demand within their existing facilities while still achieving high quality and precision", said KMT's Mark Handelsman, Wind Turbine Industry Sales Manager. "Our Root End Cut and Drill Systems along with our Edge and Surface Finishing Systems are a key part of the overall solution to meeting the needs of our wind turbine blade manufacturing customers."
KMT Robotic Solutions was formed in December of 2006 with the union of KMT Cutting Systems in Ronneby, Sweden and Robotic Production Technology in Auburn Hills, Mich. KMT Robotic Solutions has more than 1500 systems installed around the world and more than 25 years experience developing, designing, building, servicing and supporting robotic cutting, trimming and cleaning solutions for manufacturing customers. With locations in Europe, the US and China, KMT is strategically positioned to serve the global market.

http://www.kmtgroup.com/robotic

For additional information, please contact:
Roberta Zald
Director, Business Development
KMT Robotic Solutions Inc.
Desk: (248)829-2814
http://www.kmtgroup.com/robotic