KMT Robotic Solutions Appoints Jeff Connell Auburn Hills Plant Manager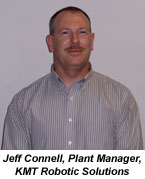 AUBURN HILLS, MIch. July 10, 2007 – KMT Robotic Solutions, Inc. General Manager Jerry Kuhn announced the appointment of Jeff Connell to the position of plant manager. In his new role, Connell oversees all activities related to manufacturing as well as facility and grounds maintenance.
''Jeff's experience with lean manufacturing will help us streamline our processes and maintain our focus on on-time system delivery,'' said Kuhn.
Connell has been involved in automotive manufacturing since 1987. In serving as plant manager for Tier One and Two suppliers, Connell has worked with several high-profile companies including Ford, GM, Textron, Magna, Collins & Aikman and Durakon, as well as all of the major Japanese OEM's. Connell is looking forward to implementing even more lean practices on the KMT Robotic Solutions Auburn Hills plant floor.
KMT Robotic Solutions was formed in December of 2006 with the union of KMT Cutting Systems in Ronneby, Sweden and Robotic Production Technology in Auburn Hills, Mich. KMT Robotic Solutions has more than 1500 systems installed around the world and more than 30 years experience developing, designing, building, servicing and supporting robotic automation solutions for manufacturing customers. With locations in Europe, the US and China, KMT is strategically positioned to serve the global market.
http://www.kmtgroup.com/robotic
KMT Robotic Solutions. Creating value through automation.

For additional information, please contact:
Janine Krasicky, J9 Media Solutions
248-542-3991