KLEENLine selects the ABB IRB 360 FlexPicker for its new, ultra-sanitary high-speed robotic pick-and-place system
The KLEENPick series features the IPK69 stainless steel FlexPicker model, hygienically designed for packaging applications with open food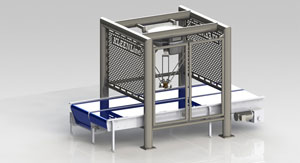 AUBURN HILLS, Mich. – KLEENLine Corporation, a leader in the design and construction of ultra-sanitary food manufacturing equipment, has selected the ABB IRB 360 FlexPicker™ robot for its new KLEENPick series high-speed robotic food picking systems. The KLEENPick series, which features the IP69k stainless steel version of the FlexPicker, is designed to combat microbiological contamination in food processing, and address overall safety and sanitation concerns in the handling of food. The only delta robot on the market available in washdown, stainless washdown and cleanroom versions with ratings as high as IP69K, the FlexPicker is hygienically designed for use in packaging applications with open food, such as meat, dairy products and ready-made meals. The robot has been configured to enable easy cleaning and reduced maintenance, and is available in a variety of configurations to meet payload, performance, working range and sanitation requirements. A smaller footprint preserves valuable production space and allows the system to be built or retrofitted into new or existing production lines. KLEENPick is KLEENLine's first high-speed robotic picking system, building on their expertise in the stainless steel material handling and conveying equipment segment.

"Advancements in the hygienic design of robots have been driven by the increasing call to achieve the highest level of sanitation in the handling of raw food products," said John Bubnikovich, executive director, marketing and business development, ABB Robotics. "Working with KLEENLine, a clear leader in the development and integration of sanitary processing equipment, will help bring the benefits of higher outputs and consistent hygiene to food, pharmaceutical and other sanitation sensitive applications."

The KLEENPick series is available as a single robot, single product in-feed cell, as well as a multiple in-feed, multiple robot manufacturing system. It is fully configurable to meet individual requirements, and is available in both round and tubular stainless steel construction.

KLEENLine CEO Jim Laverdiere added, "Our partnership with ABB has enabled KLEENLine to offer our customers high speed robotic pick-and-place systems, adhering to the same stringent sanitary standards we've specialized in for over 25 years."

ABB recently signed KLEENLine Corporation as a new system integrator in its Channel Partner Program.

About KLEENLine Corporation

KLEENLine (www.kleenline.com) of Newburyport, MA, builds stainless steel material handling equipment concentrating on relationships with companies that handle foods, pharmaceuticals, and other clean-room dependent products. With over 25 years of experience, KLEENLine applies its unique understanding of clean-room requirements to expedite and enhance the design process. Adherence to sanitary standards and compliance with BISC, USDA, and FDA standards is a long-standing KLEENLine commitment.

About ABB
ABB (www.abb.com) is a leader in power and automation technologies that enable utility and industry customers to improve their performance while lowering environmental impact. The ABB Group of companies operates in around 100 countries and employs about 130,000 people.

About ABB Robotics
ABB Robotics is a leading supplier of industrial robots - also providing robot software, peripheral equipment, modular manufacturing cells and service for tasks such as welding, handling, assembly, painting and finishing, picking, packing, palletizing and machine tending. Key markets include automotive, plastics, metal fabrication, foundry, electronics, machine tools, pharmaceutical and food and beverage industries. A strong solutions focus helps manufacturers improve productivity, product quality and worker safety. ABB has installed more than 190,000 robots worldwide.