Kirsten Bjork-Jones Recognized as a Winner in the Direct Marketing News 2015 40 Under 40 Awards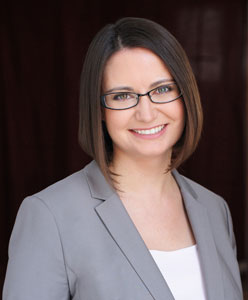 Honoring the Achievements of Exceptional Young Marketers
Barrington, NJ - Edmund Optics® (EO), the premier provider of optical components, is pleased to announce that Kirsten Bjork-Jones, Director of Global Marketing Communications at Edmund Optics, has secured a winning spot amongst a stellar group of marketers chosen by the Direct Marketing News.
"Kirsten has been instrumental in keeping our global marketing strategies on the cutting edge and is very deserving of this recognition," said Marisa Edmund, EO's EVP of Global Sales & Marketing. "Her influence regarding the success of our global marketing programs has been significant."
The DMN 40 Under 40 Awards celebrates exceptional achievement in marketing before the age of 40 and its winners represent the best of the best: young marketers who have helped significantly grow their companies; wowed their clients with creative or strategic plans; and influenced the industry in numerous ways-from re-thinking data-driven marketing strategies, to advancing measurement, to guiding their company and clients on mastering new technologies. A celebration honoring the winners will be held on Thursday, September 24th, in New York City.
"The world of marketing is evolving with new strategies and digital offerings. To stay abreast of this changing and challenging world, we need to be constantly aware of what's out there and how to implement these new technologies," commented Kirsten Bjork-Jones, Director of Global Marketing Communications at Edmund Optics.
About EO
Edmund Optics® (EO) is a leading producer of optics, imaging, and photonics technology for R&D, electronics, semiconductor, pharmaceutical, biomedical, and military markets around the globe. EO is the world's largest supplier of off-the-shelf optical components.
About Direct Marketing News
Direct Marketing News provides the comprehensive coverage of the hottest trends, success strategies, and core technologies that marketers need to get from raw data to profitable insight. DMN delivers that timely information through a robust set of digital offerings that include a website, email newsletters, eBooks, social media, virtual events, and webcasts, as well as a monthly print edition, Essential Guides series, and live events.
Company Contacts
Kirsten Bjork-Jones - Director Global Marketing Communications
Tel: 1-800-363-1992
Agnes Huebscher - Director European Marketing
Tel.: +49 (0)721-62737-38
PR Contact
James Liolin - Media Relations/Content Marketing
Tel: 1-914-670-0138