KINGSTAR 3.2 Is Live: What You Need to Know
As of November 3, 2017, the 3.2 release of KINGSTAR Soft Motion and KINGSTAR EtherCAT will be generally available to download from KINGSTAR and selected partners .
What's new and noteworthy? Version 3.2 of KINGSTAR Soft Motion includes a variety of exciting new features, highlighted below, as well as a number of resolved issues and bug fixes that you can browse in the full release notes.
New features in KINGSTAR Soft Motion 3.2 include:
New Gearing and API functions and command-line mode in the KINGSTAR Analysis Console
Adds KINGSTAR .NET Class Sample, properties to the Axis class in the .NET Class interface, and a method to the Axis class in the .NET Class interface
Adds options in the KINGSTAR ESI Import Tool, including cycle time interval, default resolution, MOP display, and custom input/output
New retry capability to scanning the bus scan (if new slaves are added between the INIT and OP state, the KINGSTAR master will run the bus scan again)
Contains the Beta version of a new KINGSTAR Tuning Console that can be used to configure, test, and tune devices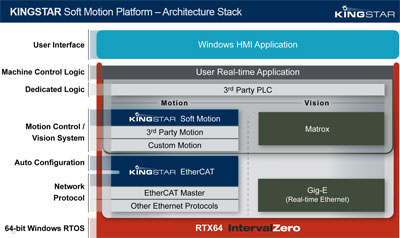 The big news for KINGSTAR EtherCAT 3.2 is that it was rewritten from a single threaded architecture to a distributed architecture to improve performance for a larger number of devices. 3.2 also provides KINGSTAR EtherCAT API functions to read and write custom variables into the PDO variable list.
KINGSTAR EtherCAT 3.2 supports new hardware as well, including the Inovance IS62ON servo drive and VIPA SLIO EtherCAT Coupler.
Interested in upgrading to 3.2 or taking it for a test drive? Get in touch or request an evaluation download.