KeMotion – New Control Solutions for Packaging Robots
v style="margin: 0in 0in 0pt">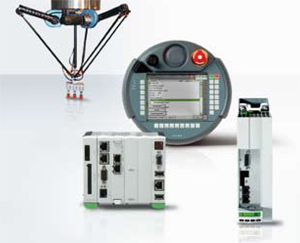 Machine productivity increases significantly with the KeMotion integrated control concept, which unifies robotics, PLC and HMI. With its KAIRO robot command kit, KEBA delivers an integrated operating concept packaging machines and factory-provided support of 20 different robot types. With PC-like programming and an easy-to-use command kit operation and programming of your packaging machine is particularly easy.
The ready-for-use and intuitively controllable KAIRO robot command kit permits simple and fast programming, which reduces the start-up time of packaging robots to a minimum. Other efficient KAIRO commands for the integration of vision and tracking systems ensure that programming and program modifications can be carried out quickly. Using the comfortable Offline Editor, KAIRO programs can already be created before the correct hardware is available, which leads to an effective reduction of the time-to-market. The software created beforehand is easily optimized later on via online-teach-in directly at the robot.
Perfect Cooperation of Robot and Process
Like no other robot control, KeMotion allows perfect synchronization of the total machine process with the robot. Due to the integrated control concept, which unifies robotics, PLC and HMI, machine productivity can be increased significantly. An integrated operating concept for the machine and factory-provided support of 20 different robot types makes operation and programming of your packaging machine particularly easy. Therefore, time-consuming learning of different robot languages is a thing of the past.
High-End Systems Optimized for your Application
Extreme scalability of complete hardware and software guarantees best price and performance-optimized complete systems. From one-axis and multi-axis applications according to PLCOpen up to eight-axis multi-robot operations that max out the physical limits, KeMotion offers the perfect systems configurations for every requirement. The integrated dynamic robot model ensures that occurring moments always stay below the maximum values while the robot moves at maximum speed. This ensures minimum cycle times and maximizes the service life of the robot mechanicals.
Greatest Ease of Use during Palletizing
For the most common palletizing tasks readily-programmed KAIRO palletizing commands are available. For complex palletizing patterns, KeMotion offers a complete library for optimal space usage. Here also the integration of common tools for space calculation is permitted. Ready-made screens make the configuration of the pallet and the palletizing pattern particularly easy.
Record-Breaking Speed during Pick-and-Place
KeMotion-controlled robots exhibit superior performance. A Delta robot, for example, achieves 210 pick-and-place cycles per minute and thus is capable of very high productivity. Due to this, otherwise necessary robots in the packaging line can be eliminated while maintaining constant production capacity. Thanks to sophisticated image recognition it makes no difference how the products are arranged on the infeed and outfeed belts – they are reliably recognized and processed.