Kawasaki adds new high-speed, low-payload robots to lineup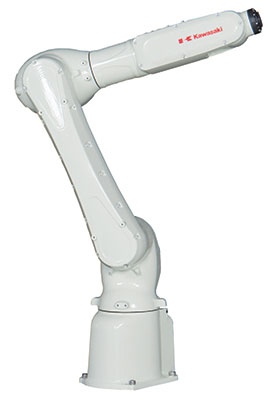 In response to the rising demand for fast, flexible and compact industrial robots in food and other industries, Kawasaki developed two 6-axis vertically articulated robots with a maximum payload capacity of 7 kg and different reach. The RS007N and RS007L models are the latest additions to the company's general-purpose R series line of small-to-medium payload (3-80 kg) robots ideal for a wide range of applications including packing, material handling and machine tending.
The Kawasaki RS007N and RS007L robots continue to offer the operational advantages of the R series robots while incorporating a newly redesigned arm structure and main-unit weight reductions. By redesigning the arm structure and adjusting the acceleration rates in accordance with load weights and robot positioning, the RS007N and RS007L models offer consistently optimized performance by significantly reducing cycle times. These enhancements also result in the fastest operating speeds in these robots' class (12,100 mm/s) along with increased working ranges.
The RS007N robot features a 730 mm reach and the RS007L a 930 mm reach for greater flexibility in production facility layouts. The small installation footprint and greater speed and reach of these robots provide automation flexibility for high mix, low volume production, and can minimize changeover times. Both models feature a double-seal construction on all axes and waterproof electrical connections, offering an IP67 classification for the wrist and IP65 for the remaining axes.
Kawasaki's newest F60 robot controller comes standard with both models. This state-of-the-art controller helps manufacturers digitally connect their machines and extract value from the Internet of Things (IoT), and features enhanced data collection and transfer capabilities to support overall equipment efficiency (OEE) calculations and smart manufacturing. The Bluetooth enabled controller allows for the collection and analysis of both robot and production data and provides the ability to link to the cloud, other robots or machines, tablets, vision cameras and various fieldbuses.
With a compact design, industry leading speed and reach, and an enhanced communication controller, the RS007N and RS007L robots meet the demand for smart and flexible manufacturing, enabling efficient small batch production and minimizing changeover times.