JVL Offers Geared Motors For Any Application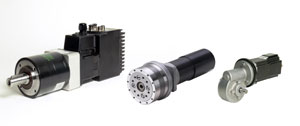 Easy connection of JVL integrated motors to a wide range of gear boxes - worm, low cost planetary, high performance planetary and backlash free robot gear reducers

JVL is a world leader in integrated servo- and stepper motors. Their integrated motors are the most compact and versatile on the market today, offering connection to a wide range of bus systems such as CANopen, Devicenet and Profibus as well as Wireless Bluetooth, WLAN and Zigbee systems.
JVL is however not only motors. They offer complete motion control solutions. This also includes a wide range of gears that fit directly on the motors for any application:
Low Cost Planetary
If the application is cost sensitive and high performance is not needed the HMGH series is the right choice.
Worm Gears
If cost is important and a 90° angle is also needed - then Worm gear boxes, the HFOS series, should be the first choice.
High Performance Planetary
When an honest hard working Planetary gear box is needed think of the HTRG series. They provide standard backlash of 15 or 10 arcmin (1+2 stage) and also high precision reduced backlash of either 5 or 3 arcmin.
Backlash free Robot Gears
Combine bearing and backlash free gear box into one ultra compact unit - the HSPG reducer. These gears offer unbeatable specs and performance.