JR Automation Offers System Lifecycle Management Services
JR Automation offers a comprehensive portfolio of lifecycle management services to support our customers from system go-live to the end of the lifecycle. Whether you're experienced in automation and only occasionally need support or are new to automation, JR Automation offers a comprehensive range of products and services which are customized to meet your unique needs.
We emphasize the word lifecycle because our services can evolve as your needs change whether due to system, personnel or environmental changes. We believe in a working partnership with our customers in which communication and data sharing are always at the core.
WHAT IS JR AUTOMATION'S LIFECYCLE MANAGEMENT?
We have a mission to provide customers with the highest possible uptime at the lowest possible lifecycle costs. Simply put, automation solutions are investments. With lifecycle management solutions from JR Automation, manufacturers and distributors can feel at ease knowing you have partnered with a provider who will walk the lifecycle journey with you.
Strong Partnerships with our customers are what help make this a successful endeavor. Lifecycle Management is much more than providing parts and services in a timely manner- it's also about improving uptime and productivity. Our team prioritizes keeping you informed of trends and potential opportunities for improvement.
JR Automation is your partner throughout the system's life, from designing and building your system to supporting it many years after installation and through possible obsolescence. We conduct interviews, assess your team's skills and capabilities, and develop a customized plan to meet your support requirement. New to automation? You may desire a comprehensive service agreement. Have a well-established manufacturing environment? You may only require an occasional replacement part.
To learn more visit the JR Automation website at https://www.jrautomation.com/lifecycle-management or contact an expert directly by emailing [email protected].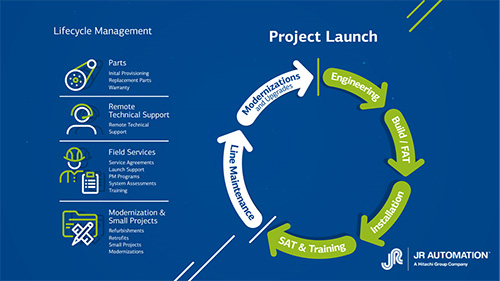 About JR Automation
Established in 1980, JR Automation is a leading provider of intelligent automated manufacturing and technology solutions that solve customers' key operational and productivity challenges. JR Automation serves customers across the globe in a variety of industries, including automotive, life sciences, aerospace, and more.
In 2019, JR Automation was acquired by Hitachi, Ltd. In a strategic effort towards offering a seamless connection between the physical and cyber space for industrial manufacturers and distributers worldwide. With this partnership, JR Automation provides customers a unique, single-source solution for complete integration of their physical assets and data information; offering greater speed, flexibility, and efficiencies towards achieving their Industry 4.0 vision. JR Automation employs over 2,000 people at 28 manufacturing facilities in North America, Europe, and Asia.