Joseph F. Engelberger, Pioneer of Robotics, Dies at 90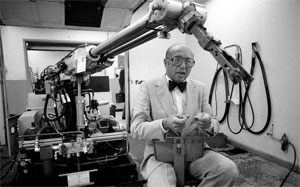 Joseph F. Engelberger, who revolutionized assembly lines around the world by introducing the industrial robot, an innovation that he hoped would one day transform daily life for the elderly and the infirm, died Dec. 1 at his home in Newtown, Conn. He was 90.
The cause was Alzheimer's disease, said his daughter, Gay Engelberger.
Trained as a physicist, Mr. Engelberger became a business entrepreneur who was widely regarded as the "father of robotics."
He was working as an automation engineer in the 1950s when he attended a cocktail party and met a tinkerer, George C. Devol, with a patent pending for an intriguing device: what was known as a programmed article transfer, essentially a mechanized arm that could be instructed to move items from one place to another.
"You know what?" Mr. Engelberger recalled remarking. "That sounds like a robot to me."
The two men formed a partnership that led to the creation in 1961 of Unimation Inc., a company in Danbury, Conn., where Mr. Engelberger was president and chief executive. The firm built and sold the Unimate, a hydraulic machine based on Devol's design that today is considered the first industrial robot.
Many Americans saw the Unimate for the first time on "The Tonight Show" with Johnny Carson in 1966. Mr. Engelberger, sporting his signature bow-tie, performed a demonstration in which the machine poured a beer, made a golf putt and directed the "Tonight Show" band.
By that time, the device was already in use on the assembly line. A General Motors auto factory in New Jersey had been the first to adopt it several years earlier, using the Unimate for the laborious and often dangerous process of die casting. But the product was not immediately popular.
Mr. Engelberger attributed early resistance in part to the futuristic nature of robots. "I had a hard time getting people in the U.S. to take me seriously," he told Forbes magazine in 1990.
Another obstacle was the Unimate's price tag. In its early days, the company could manufacture a robot for $60,000, Mr. Engelberger said, but sold it for $25,000 in an effort to introduce it to the market.
"You see, no one needs one. That's a very important philosophical point," he explained. "If you need a lathe, you've gotta buy it. You can't have people carving by hand. People buy a robot only for the value it gives them in labor savings. So you price to the value."
Mr. Engelberger also said he encountered fears that, if widely used, robots would eliminate jobs. He sought to assuage those concerns, emphasizing that the machines were best used for work that was "hot, heavy" and "hazardous."
"I want the robot to fit in the same place a human does, and to do the same things the human does when he is involved in a subhuman task," he told the New York Times in 1980.
Sales later picked up in the United States and in Japan, where Mr. Engelberger said he found a noticeably more welcoming audience. By 1980, Unimation was the largest manufacturer of industrial robots, according to the Times. The company was sold to Westinghouse several years later for a reported $107 million.
In a second phase of his career, Mr. Engelberger sought to introduce robots into the service economy. In 1984, he founded Transitions Research Corp., later called HelpMate Robots Inc., a manufacturer of autonomous couriers used to transport supplies in hospitals.
The machine was used in more than 100 facilities, according to Mr. Engelberger's daughter. The company was sold to Cardinal Health before her father's retirement at 75.
His ultimate goal, he told interviewers, was to create a robot that would act as a servant for the elderly or the disabled, providing services such as fetching, cleaning, cooking and calling for assistance in the event of an emergency.
While deeply convinced of robots' utility throughout society, Mr. Engelberger did not support their use for military purposes.
"Today what disturbs me is that the military is very busy now trying to build robots for combat," he told the publication Manufacturing Engineering in 2006. "Not just robots in the air and underwater, but robots that are anthropomorphic, that would go into a building with enemy in it and attack them. . . . And if you believe that we'll be the only country with them, you're wrong."
Joseph Frederick Engelberger was born in Brooklyn, N.Y., on July 26, 1925. His father, a cellist, and his mother, a homemaker, were immigrants from Germany.
After Navy service during World War II, Mr. Engelberger received a bachelor's degree in physics in 1946 and a master's degree in electrical engineering in 1949, both from Columbia University. He said he became interested in his future career after reading the short stories of Isaac Asimov collected in "I, Robot," the 1950 science-fiction volume.
Mr. Engelberger's books included "Robotics in Practice" (1980) and "Robotics in Service" (1989). He belonged to the National Academy of Engineering and received honors including the Japan Prize, a prestigious award given annually for advancements in science and technology.
His wife of more than 50 years, the former Marge Thomas, died in 2007. Survivors include two children, Gay Engelberger and Jeff Engelberger, both of Newtown; and a grandson. Devol died in 2011.
"When you're a roboticist, you end up having an awful lot of respect for what God created," Mr. Engelberger told the Business Times of Singapore in 1995, reflecting on the complexity of the human arm, which Unimation had sought to re-create in a robotic one.
"From my elbow to my hand, there are 36 different articulations I can mentally control. It's very difficult to duplicate that."
He said that he did not share the fear, felt by some science-fiction buffs, that robots might one day overtake the world.
"You know, it's possible that evolution has bogged down, and the next big evolutionary step will be robotics. I know we're doing [a] heck of a lot to abuse the world we live in. Maybe we'll become obsolete!"
He continued, "But not in my time. Not in your time, either!"
Emily Langer - Reporter at The Washington Post