Joseph F. Engelberger, a Leader of the Robot Revolution, Dies at 90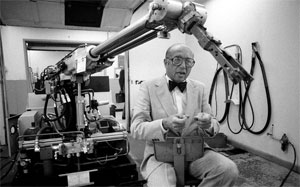 Joseph F. Engelberger, a visionary engineer and entrepreneur who was at the forefront of the robotics revolution, building robots for use on assembly lines and fostering another, named Seymour, to handle chores in hospitals, died on Tuesday in Newtown, Conn. He was 90.
The Robotic Industries Association confirmed his death.
Mr. Engelberger was a force in robotics from its early days, in the 1960s, when his company, Unimation, in Danbury, Conn., developed the Unimate, a robotic arm that would greatly accelerate industrial production lines.
Based on concepts for programming machinery advanced by an inventor, George Devol, the arm was first used in the die-casting industry to pluck new parts from their molds.
Mr. Engelberger's salesmanship soon found a receptive market in the auto industry; General Motors, Ford and Chrysler had begun to favor robots for manufacturing in the 1970s and embraced the Unimate.
But not everyone was eager to adopt them. Labor unions and some corporate managers resisted robotics at first, worrying, as Mr. Engelberger later put it, "that the robots can take all the jobs away."
He disagreed with that notion.
"It's unjustified," he told The New York Times in 1997. "The robots take away subhuman jobs which we assign to people."
Unimate proved to be more precise than the human hand in completing some repetitive and dangerous tasks. Automobile makers employed the arm to weld and move vehicle parts, apply adhesives to windshields and spray-paint car bodies — jobs that had posed chemical hazards to workers.
Unimation grew to employ as many as 1,000 people and was purchased in the early 1980s by Westinghouse.
Mr. Engelberger then turned to the next generation of robotics technology: mobile machines that would operate with ever greater autonomy.
He consulted with the National Aeronautics and Space Administration about the potential for unmanned, remotely controlled devices in space exploration, and his expertise was sought by scientists in Japan, where the momentum in the robotics industry had shifted. Japanese electronics companies had adapted robots to make circuit boards and other intricate components.
In the 1990s, working with HelpMate Robotics in Danbury (he was its chairman for a time), Mr. Engelberger helped create a robotic courier that found a niche in hospitals. The device, named Seymour, could deliver meals, medical records, supplies and more, and found round-the-clock employment in about 100 hospitals across the country.
Yet Seymour was only a prototype for Mr. Engelberger's larger ambitions. He foresaw a mobile "household robot" that would incorporate navigation devices, cameras, medical instruments and alarms and enable more of the elderly to remain in their own homes in safety.
He envisioned such a robot as having arms and stereoscopic vision, to guide a person to a door or bathroom. It might carry a device to measure a patient's heart rate, blood sugar and other vital signs, and then be able to relay those readings to a doctor.
It might also act as a watchdog, using voice-recognition software to identify intruders and employing pepper spray or an electric shock to chase them away.
In the best of all worlds, Mr. Engelberger suggested, robots might also take on some human qualities. "Modest conversational gambits are possible," he said, though he allowed that technology would not permit a person to "discuss Spinoza with the robot" anytime soon.
An advanced domestic robot remains on the drawing board. But highly sophisticated robots like the Mars lander, deploying what amounts to a chemistry lab to analyze planetary soil, have come to pass.
William L. Whittaker, a leader in robotics research and a professor in the subject at Carnegie Mellon University, credited Mr. Engelberger with being an "authentic, empowering and no-nonsense" influence in the development of robotic technology.
"His strengths were sales, marketing and finding utility in the world for an emerging technology," Dr. Whittaker said in an interview in 2008, "in the process helping to build the robotics movement."
(Dr. Whittaker himself designed a remotely guided robotic car and machines that helped to clean up after the Three Mile Island nuclear accident in 1979.)
Mr. Engelberger explained his ideas in two books, "Robotics in Practice" (1980) and "Robotics in Service" (1989). Dr. Whittaker said "Robotics in Service" in particular bridged the realms of research and daily enterprise and "bundled disparate subjects under one cover, providing an excellent cross section."
Joseph Frederick Engelberger was born on July 26, 1925, in Brooklyn to Joseph and Irene Engelberger, immigrants from Germany. He studied science and engineering at Columbia University before joining Manning, Maxwell & Moore, an engineering firm and maker of industrial equipment in Bridgeport, Conn.
He left the company to help establish Consolidated Controls Corporation and Unimation, where he was the company's president.
In 1997, Mr. Engelberger received the Japan Prize for his pathbreaking leadership in robotics. He was a member of the National Academy of Engineering.
Mr. Engelberger's wife of more than 50 years, Marge, died in 2007. He is survived by a son, Jeffrey; a daughter, Gay Engelberger; and a grandson.
Of all the possible uses of robots, Mr. Engelberger remained wary of a military role, which he considered a misappropriation of what was otherwise a scientific "blessing." While noting that ballistic missiles and similar weapons already incorporated robotics, he resisted a suggestion that robot armies could substitute for human troops to save lives in warfare.
It would not be long, he said, before antagonists would find ways to undermine each other.
"It starts out innocently enough," Mr. Engelberger said, "to use robots as corpsmen — to go out and pick up the wounded soldiers."
"Then it occurs to them not to send the soldiers out," he said of commanding officers, and "to give robots weapons of destruction."
"That's not good," he said, "but I don't know what to do about it."
Daniel E. Slotnik contributed reporting.
A version of this article appears in print on December 3, 2015, on page B19 of the New York edition with the headline: Joseph F. Engelberger Dies at 90; a Leader of the Robot Revolution.