Joe Saad Retiring after 46 Years with Acme Manufacturing Company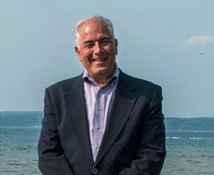 Acme Manufacturing Company in Auburn Hills, Michigan, U.S.A., the world leader in design and manufacturing of integrated robotic automation for polishing, buffing, deburring and grinding systems since 1910, is announcing the retirement of Joe Saad, Sr. VP of Sales & Marketing after 46 years of service.
Highly recognized globally as an industry expert in metal finishing, Joe has been instrumental in developing polishing automation solutions for automotive trim, truck bumpers, aluminum wheels, plumbing components, hand tools and builders' hardware.
Things have really changed since Joe started his career 46 years ago. Mobile phones, laptop computers, I Cloud file storage and virtual meetings are essential business tools today. Acme's much sought-after buffing, polishing & grinding solutions were manually loaded semi-automatic, high-volume rotary tables and conveyor style machines, light years away from today's technology of flexible automation and Joe's view of the future of robotics where cobots efficiently work side by side with people in a safe environment. According to Joe, one thing that has never changed is Acme's commitment to the value of their employees, customers, business partners and industry associates. Acme's strong experienced team and network of relationships allows for a seamless transition and success of change!
Joe holds a Bachelor of Science Degree in Business Administration Management and Economics from Oakland University together with a vast wealth of experience, knowledge and relationships in the metal finishing industry worldwide.
Concurrently Acme announces the following promotions:
Jack Karagozian, Vice President – Global Sales Engineering, responsible for leading the Acme global sales team to bring to market unique solutions for material removal.
Scott Kilpatrick, Vice President – Global Business Development, responsible for transforming Acme's fleet of robotic solutions to the latest IoT and Industry 4.0 standards
Michael Lamb, Director - Global Service Sales and Parts, responsible for ensuring customer satisfaction and Acme machine readiness by being well serviced and having spare parts ready for the customer.
Robert Thornton, Director – Global Engineering, responsible for innovative product development. Rob's deep experience in robotics, software and product development, and mechatronics will drive a new focus at Acme, advancing metal finishing processes.
A heartfelt CONGRATULATIONS to Joe, Jack, Scott, Mike and Rob!