JEC 2011 in Paris - A phenomenal success for Robotmaster!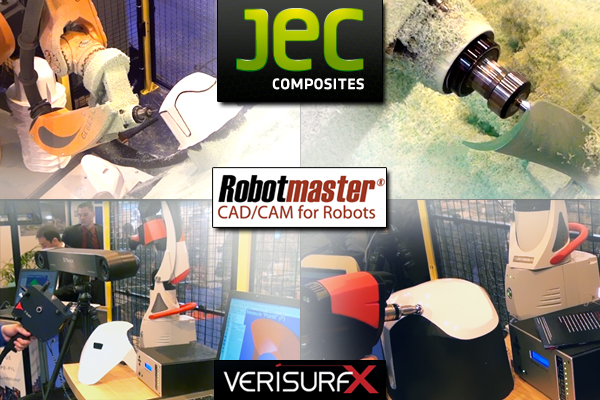 Robotmaster and Verisurf software were presented at JEC Paris at the end of March 2011. The fully integrated solution that permits Modeling, Machining, Simulation, Robot Machining, Quality Inspection and Verification was well received by both show attendees and exhibitors!
The elimination of the painstaking and time consuming tasks of manually trimming or creating complex machining on composite materials with the laborious step by step teaching of robots was an eye opener for many industries. Many of the attendees who saw the complete process have realized that they can now seriously consider using robots for cost effective machining, tape/fiber placement, spray coating, etc. of large composites, aerospace, automotive and energy industry parts in order to efficiently meet the increasing demands of their customers. Seeing that one cost effective software solution can easily address their programming and inspection requirements was one of the major attractions of the show.
A large Kuka robot performed live complex multi-axis machining on a propeller blade and the trimming of an automotive plastic part within the same cell. Once the parts were machined, they were QC inspected using inspection arms and laser scanners. In just a matter of minutes the clients were able to see the complete process in real time; importing the reverse engineered CAD model into Mastercam®, quickly creating the relevant geometry for machining in a few clicks, generating the complex optimized trajectories for the robot, simulating the resulting robot movements then generating the code for the Kuka robot. The clients were able to watch the parts being machined, then inspected on one system!
About Robotmaster
Robotmaster® is a product of Jabez Technologies Inc., specialized in dedicated software solutions for industrial automation, manufacturing and robotics since 1996. Robotmaster® seamlessly integrates robot programming, simulation and program generation inside Mastercam®'s industry proven CAD/CAM platform. Robotmaster is ideally suited to program robots for such tasks as trimming, 3D machining, de-burring, polishing, dispensing, grinding and painting, and supports most industrial robot models.
About Verisurf
Verisurf Software, Inc. is a metrology software development company committed to delivering advanced computer-aided inspection and reverse engineering solutions. Verisurf software helps manufacturers produce higher quality products in less time and at a lower cost by implementing highly automated 3D Model-Based inspection processes. Verisurf and partners will be demonstrating the new Verisurf X5 at CONTROL 2011, May 3 to 6 at the Stuttgart Exhibit Center, Hall 5, Booth 5313.

Intercam SA distributes Robotmaster software throughout Europe.