Jason Markesino Earns Prestigious Engineering Leaders Under 40 Award
Plant Engineering recently announced the 2019 Engineering Leaders Under 40, and we are very pleased to report that AMT's Engineering Group Leader- Industrial Automation Group Jason Markesino has earned this prestigious award! Nominated by our management team, Jason has been with AMT since 2003 when he graduated from Michigan Technical University with a BS in mechanical engineering. This leadership award is well deserved: Jason is a role model both on and off the job as an engineer and human being, he is always willing to share his expertise and lend a helping hand.
"From the start Jason has demonstrated leadership skills, the ability to learn quickly, and a great work ethic," said Michael Jacobs, president and CEO of AMT. "Jason worked in the field for AMT for several years before taking on the role of senior technical trainer where he created the AMT Automation Academy to train new and existing AMT engineers. In this role, Jason launched the careers of many engineers and continues to mentor them as they advance."
Jason's career and life revolve around supporting others. Whether he is parachuting in to support a customer and save a project or mentoring recent grads, he can always be counted on to give 110%. He has a competence in, or mastery of, all of the technologies involved in automation including controls, mechanical design, simulation, and robot programming.
Since 2002, AMT has given out an award called RISE to one employee per year, and Jason was the recipient of this unique award early in his career. RISE award recipients are nominated and chosen by his or her peers for demonstrating the company's core values.
When asked about his chosen career path Jason said, "My interest in robotics and controls started in 1997 when I joined a FIRST robotics team. I found a great appreciation for the integration of the mechanical, electrical, and control systems. Getting to see something I helped to build move for the first time was exhilarating. As a founding member of the Robotic Systems Enterprise at Michigan Tech, we started and mentored FIRST programs, but also explored industrial robotics and controls."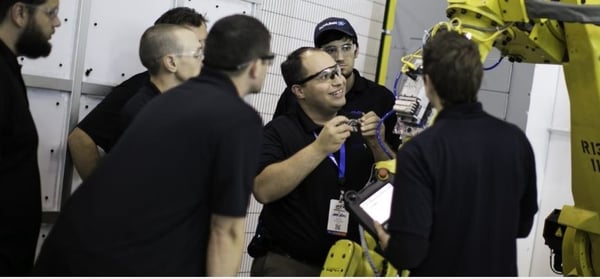 Jason still spends a great deal of time mentoring FIRST robotics students. "Since 2013, I have been the lead electrical mentor of Team RUSH, a FIRST robotics team," said Jason. "I inspire young students to embrace new technologies. We work with the control systems of the robot including learning specific sensor and controls wiring, 3D printing, and Arduino programming. As an inspired RUSH alumnus, I mentor RUSH students because I want them to be as inspired as I was."
Jason's contributions to the RUSH team are appreciated by both students and teachers alike. "Jason's dedication, leadership and integrity represent what teachers dream of as a role model mentor for their students," said Kyle Hughes, Jason's high school math teacher and RUSH team leader. In addition to working with FIRST high school students, Jason mentors and supports college students working on their senior projects at Lake Superior State University, often giving up his evenings and weekends.
"The decision to follow my passion into a technical career was easy and AMT is a great fit," said Jason. "I am still inspired every time I can solve our customers' problems and feel a great sense of accomplishment."
Congratulations Jason!