Japanese Robot Manufacturers Realize Increase in Sales in 2011
Des

pite the most devastating disaster in Japan since WWII, industrial robot manufacturers based in Japan saw their sales increase in the first three quarters of 2011.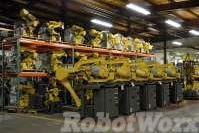 About one-third of all industrial robot orders originate in Japan, largely due to highly robotic automotive assembly lines. Industrial spot welding robots, such as the Motoman UP165 pictured, are a common sight in automotive factories.

Yaskawa Robotics (the parent company for Motoman Robotics), FANUC Robotics, and Kawasaki's robot division made up the three industrial robot manufacturers that saw the largest sales increases. Yaskawa's sales were up 46% from the previous fiscal year. FANUC saw a 6% increase, and Kawasaki also saw significant gains.

Boosting the jump in industrial robot sales were the orders for semiconductors used in smartphones and computers. Robots in these industries typically perform different material handling and assembly tasks. Industrial robots used in automotive lines and vacuum environments to perform welding, painting, and material handling applications also added to the increase in orders and sales in these Japanese based industrial robot manufacturers.

Learn more abou this story.