JAI's Sweep Series of Monochrome Line Scan Cameras Now Available with CoaXPress Interface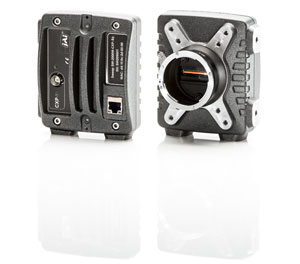 Copenhagen - Today, JAI announced that the company's Sweep Series of monochrome industrial line scan cameras are now also available with the CoaXPress interface standard (besides models with Camera Link Interface already released). The CoaXPress interface offers lower cost cables, longer cable lengths and a single cable solution to provide image data, camera control as well as power supply.
The SW-2000M-CXP-80 camera model is based on a custom-built CMOS sensor available exclusively from JAI, offering an excellent combination of large high sensitivity pixels, high scan rates and excellent image quality.
The new Sweep models feature 2048 pixel resolution, 20 µm x 20 µm large pixels, and scan rates up to 80,000 lines/second.
The high sensitivity pixels make the Sweep SW-2000M-CXP capable of capturing an acceptable exposure at 4 times the speed of a camera with only 10-micron pixels.
Large pixels provide further advantages by lowering the "Modulation Transfer Function (MTF)" requirements of the camera lens, which means that Sweep SW-2000M-CXP-80 has a higher tolerance to "lens blur" making it less dependent on high quality lenses to obtain the required image quality.
With a 400 µm² photon collection area and a large quantum well capacity, these new line scan cameras provide an excellent signal/noise ratio, maximizing the image quality.
The image sensor can be set in two operating modes – a higher dynamic range mode and a responsive mode. In the higher dynamic range mode the quantum well can contain as many as 360k electrons delivering images with more than 9 valid bits (SNR = 580 : 1). In vision inspection situations where the scene light is limited, the camera can be switched to "responsive mode" (collecting 60k electrons). The quantum well then fills up six times as fast, providing a higher response on the grey scale. The resulting images have greater brightness and better contrast.
The cameras are equipped with an Ethernet port for remote control, firmware updates and download of documents. Functions like Flat Field Correction, binning, Regions of Interest and reversed readout increase the flexibility of customizing the image format.
The cameras are GenICam compliant for use with JAI SDK. A Windows user interface is provided for communications via the Ethernet port.