JAI's New 45-megapixel Camera Delivers 8K Resolution at More Than 60 fps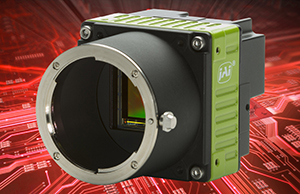 SAN JOSE, CA – JAI's has introduced the SP-45000-CXP4, a new 45-megapixel high performance industrial camera in the company's Spark Series. The camera features a cutting-edge CMOS imager (with global shutter) capable of running at 65 frames per second in 8K TV resolution (7680 x 4320 pixels) or at 52 frames per second for full 8192 x 5460 (44.7 megapixel) 8-bit resolution. This makes it the fastest of any of the 40- to 50-megapixel industrial cameras currently on the market.
In addition to speed, the SP-45000-CXP4 delivers excellent image quality thanks to a dark noise rating of only 4.5 electrons, and a standard dynamic range of 67 dB. A special built-in High Dynamic Range (HDR) mode that uses a dual gain technique applied to a single captured image, boosts the dynamic range to 73 dB with a maximum frame rate of 30 fps. HDR output can be delivered in a 14-bit linear format, or in a knee-point compressed format at a bit depth of 8, 10, or 12 bits.
For lower-speed applications, image quality can be further enhanced by using the camera's built-in frame integration capabilities to average up to 8 consecutive frames, thereby reducing shot noise in the image.
Two SP-45000-CXP4 models are available – a model providing monochrome output (SP-45000M-CXP4), and a model providing raw Bayer output for host-based interpolation (SP-45000C-CXP4). Both models feature a four-lane CoaXPress interface for high-speed connection to the host.
The image sensor in the SP-45000-CXP4 has 3.2-micron square pixels and a diagonal of 31.5 mm (Super 35 mm format). This enables the camera to fit into a compact 62 x 62 x 84.2 mm form factor.
Other key features available on both models include single- and multiple region-of-interest (ROI) capabilities, horizontal image flip, an edge enhancement function, a sequencer trigger function, automatic level control combining auto-shutter and auto-gain capabilities, and a built-in function for controlling lenses connected via a Birger Mount. 1x2, 2x1, and 2x2 binning is available on the monochrome model only.
The combination of high resolution, high speed, HDR, and high image quality makes these new cameras suitable for a range of industrial and non-industrial applications including flat panel inspection, broadcast sports, traffic and street mapping, virtual reality, surveillance and facial recognition, electronics inspection, and more.
The SP-45000-CXP4 is available today in versions supporting F-mount or M42 mount lenses.
About JAI
JAI is a manufacturer of high quality, industrial-grade cameras for the machine vision, transportation, food & beverage, aerospace, medical/life sciences and scientific markets.
JAI's broad product line features high performance progressive scan CCD and CMOS cameras with resolutions up to 45 megapixels. It also includes a range of innovative multi-sensor prism-block cameras including both area scan and line scan models.
Physical interfaces include the Camera Link®, GigE Vision®, CoaXPress, and USB3 Vision high performance digital standards.
JAI cameras help improve customer businesses in a variety of ways, whether by improving quality and accuracy, lowering costs, increasing yields, or simply enabling better service. In addition to cameras, JAI's traffic solutions group is one of the world's leading manufacturers of specialized traffic systems. Solutions are based on JAI-developed hardware and software, which is often integrated with third-party products.