JAI introduces new 3-CMOS prism based color line scan camera with 10 GigE interface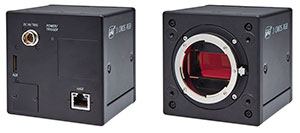 COPENHAGEN – JAI introduces a new industrial color line scan camera in the Sweep+ Series. The Sweep+ SW-4000T-10GE is a prism-based color line scan camera equipped with three CMOS sensors and a 10 GigE interface including backwards compatibility to 5, 2.5 and 1 Gbps Ethernet standards. The 3-CMOS prism design features three separate imagers that simultaneously capture red, green, and blue spectral wavebands for very high color imaging accuracy.
The SW-4000T-10GE camera offers a maximum resolution of 4096 pixels (4k) per channel/line, and in combination with the 10GBASE-T interface, the camera provides RGB output at a maximum line rate as high as 97 kHz (97,000 scan lines/second). YUV color data can be output at up to 145 kHz. Using sensor region-of-interest (ROI) the camera can output data at even faster line rates. For example, by setting the ROI at 2112 pixels, the scan rate can be increased to as much as 183,400 lines/s.
Via integrated auto-negotiation technology the camera offers automatic backwards compatibility to NBASE-T (5 Gbps and 2.5 Gbps) and the traditional 1000BASE-T (1 Gbps output) for customers running vision applications on these lower-speed Ethernet standards. Therefore, the new SW-4000T-10GE color line scan camera covers multiple Ethernet configurations making it suitable for the slowest to the fastest running color line scan set-ups including applications in food sorting, plastic sorting, bottle/bottle cap inspection and high speed color print/label inspection.
The SW-4000T-10GE camera offers two user-selectable pixel sizes – a 7.5 x 7.5 µm mode (Mode A) with fast responsivity for applications that need it, and a 7.5 x 10.5 µm mode (Mode B) to provide a deeper well with better dynamic range and SNR characteristics when more light is available or when running at lower speeds. In addition, each of the three CMOS sensors has two adjacent lines. This arrangement makes it possible for the SW-4000T-10GE to provide not only horizontal pixel binning but also vertical pixel binning, or both.
Also included is the built-in color conversion capability that allows the SW-4000T-10GE to provide native HSI or CIEXYZ color output, in addition to offering conversions from standard RGB to the sRGB or Adobe RGB color spaces, or even to a user-defined custom RGB conversion matrix. The camera also supports the precision time protocol and direct connection to encoders.
Additional standard features include gain and black level adjustment, manual or automatic white balancing, shading correction, PRNU and DSNU correction, region-of-interest settings, and chromatic aberration compensation.
The camera can be ordered with two different lens mount options – a Nikon F-mount or an M52 mount.
About JAI
JAI is a manufacturer of high quality, industrial-grade cameras for the machine vision, transportation, food & beverage, aerospace, medical and scientific markets.
JAI's broad product line features high performance progressive scan CCD and CMOS cameras with spatial resolutions from VGA to 20 megapixels. It also includes a range of innovative multi-sensor prism-block cameras including both area scan and line scan models.
Physical interfaces include the Camera Link®, GigE Vision®, CoaXPress, and USB3 Vision high performance digital standards, as well as both TV-standard and analog progressive scan output.
JAI cameras help improve customer businesses in a variety of ways, whether by improving quality and accuracy, lowering costs, increasing yields, or simply enabling better service. In addition to cameras, JAI's traffic solutions group is one of the world's leading manufacturers of specialized traffic systems. Solutions are based on JAI-developed hardware and software, which is often integrated with third-party products.