JAI Cameras Added to PPT VISION's Embedded System
SAN

JOSE, CA — JAI today announced a strategic partnership with PPT VISION, Inc. of Minneapolis to provide high-performance camera technology for integration into PPT VISION's M-Series embedded machine vision line. Under the arrangement, JAI will initially provide a UV-sensitive camera and a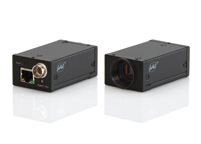 remote-head camera to enable PPT VISION to expand the applicability of the M-Series line to a variety of specialized applications. Additional JAI cameras may be incorporated at a future date.

The 1.4-megapixel (1392 x 1040), 16 fps ultraviolet camera selected by PPT VISION (model CM-140GE-UV) is one of 12 different UV-sensitive cameras currently offered by JAI. These cameras utilize the shorter wavelengths of ultraviolet light to "see" smaller surface details or to image items that radiate light below the visible spectrum. These capabilities make the cameras ideal for semiconductor inspection, biomedical analysis, and a variety of other sophisticated applications.

The seamless integration of the JAI UV camera into the M-Series family marks the first time customers have been able to leverage the power of an industrial grade UV camera with the flexibility and convenience of an embedded vision system. The camera's standard GigE Vision interface can be connected to the M-Series processing unit with up to 100m of standard Ethernet cabling.

Also being added to PPT VISION's M-Series line is one of JAI's high-speed remote-head cameras (model CM-030GE-RH), representing the first time such a capability has been offered in conjunction with an integrated machine vision system. The camera features a 17 mm diameter, 46 mm long remote imaging
head connected to the main camera body by a flexible 2-meter cable. With its small size and light weight, the camera is designed for applications involving limited space and/or high-speed repetitive motion, such as pick-and-place machines, pipe inspection, or other "industrial endoscopy" tasks.

Pixel resolution of the remote head camera is 656 x 494, with a frame rate of 120 fps and a standard GigE Vision digital interface.

"PPT VISION is a recognized leader in the vision industry and we are pleased to join forces with them to bring the best possible imaging capabilities to users of their embedded vision systems," said Wesley Okeke, Senior Director of Sales for JAI.

About the JAI Group
JAI is a manufacturer of high quality, industrial-grade cameras for the machine vision, transportation, aerospace, homeland security, medical and scientific markets.

JAI's broad product line features high performance progressive scan CCD cameras with spatial resolutions from VGA to 16 megapixels; traditional interlaced video cameras; intensified cameras with sensitivity to light levels as low as .00001 lux, and a range of innovative 2CCD and 3CCD prism-block cameras including both area scan and line scan models.

Physical interfaces include the Camera Link® and GigE Vision® high performance digital standards, as well as both TV-standard and analog progressive scan output.

JAI cameras help improve customer businesses in a variety of ways, whether by improving quality and accuracy, lowering costs, increasing yields, or simply enabling better service. In addition to cameras, JAI's traffic solutions group is one of the world's leading manufacturers of specialized traffic systems. Solutions are based on JAI-developed hardware and software, which is often integrated with third-party products.