JAI at Vision Stuttgart 2016 - Preview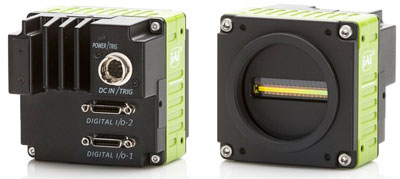 JAI introduces a range of new industrial high speed monochrome line scan cameras in the Sweep Series as well as presenting an expanded range of small size and affordable area scan cameras in the company's Go Series.
COPENHAGEN – At Vision 2016 in Stuttgart, JAI to introduce a range of new high speed industrial line scan and area scan cameras.
New monochrome Line Scan Cameras in the Sweep Series:
JAI launches two new high-speed monochrome line scan cameras in the company's Sweep Series. The SW-4000M-PMCL model is equipped with a 4K (4096 pixels) CMOS monochrome line sensor, delivering a scan rate of up to 200 kHz (200,000 lines/second). The other new monochrome model – Sweep SW-8000M-PMCL – features an 8K (8192 pixels) CMOS line sensor delivering a scan rate of as much as 100 kHz (100,000 lines/second). Both cameras are available with F-mount and M42 mount and the 8 and 10-bit data output is handled via a Camera Link Deca interface.
Expanded Go Series of small format and low priced area scan cameras:
Among the new cameras in JAI's Go Series of small size industrial area scan cameras are four new 5-megapixel models all based on Sony PregiusTM CMOS sensors (2464 x 2048 pixels). The GO-5101M-PGE and GO-5101C-PGE (monochrome and color) are based on the IMX264 sensor whereas the models GO-5100M-PGE and GO-5100C-PGE (monochrome and color) are based on Sony's IMX250 sensor adding multi-ROI capability to the feature list. All models feature low noise, high dynamic range, global shutter and power-over-GigE Vision interface making all four models capable of delivering 22.7 frames/second in full resolution.
In addition to the GigE Vision models, JAI expands its Go Series with two new USB3 Vision models; GO-5100-USB with 5 megapixels delivered at 74 frames/second (based on Sony IMX250) and a 2.35 megapixel camera (GO-2400-USB) delivering 160 frames/second (Based on Sony IMX174). The aforementioned GO-5101 models (Sony IMX264) will also soon become available with Power-over-mini-camera link interface delivering as much as 35.5 frames/second while retaining the same compact size as the other Go Series cameras.
Two new Spark Series 12 megapixel cameras on display:
JAI will also display two new high speed 12 megapixel industrial area scan cameras in the Spark Series. Both cameras - Spark SP-12000C-CXP4 and Spark SP-12000M-CXP4 - (color and monochrome respectively), are based on the CMOSIS 12-megapixel CMOS sensor (CMV12000), featuring a resolution of 4096 x 3072 pixels, 5.5 µm square pixels and global shutter technology. Based on well-crafted JAI electronics design, both cameras deliver a cutting edge frame rate of 189 frames/s in full 12 megapixel resolution via a CoaXPress 4-connector interface.
About JAI A/S
JAI is a manufacturer of high quality, industrial-grade cameras for the machine vision, transportation, food & beverage, aerospace, medical and scientific markets.
JAI's broad product line features high performance progressive scan CCD and CMOS cameras with spatial resolutions from VGA to 20 megapixels. It also includes a range of innovative multi-imager prism-block cameras including both area scan and line scan models.
Physical interfaces include the Camera Link®, GigE Vision®, CoaXPress, and USB3 Vision high performance digital standards, as well as both TV-standard and analog progressive scan output.
JAI cameras help improve customer businesses in a variety of ways, whether by improving quality and accuracy, lowering costs, increasing yields, or simply enabling better service. In addition to cameras, JAI's traffic solutions group is one of the world's leading manufacturers of specialized traffic systems. Solutions are based on JAI-developed hardware and software, which is often integrated with third-party products.