Jabez Technologies Releases Robotmaster V5
v>

Montreal, Canada - Jabez Technologies introduces Robotmaster V5. Expanding on powerful optimizing tools Robotmaster V5 sets a new standard for programming robots with the same ease and functionality as CNC Milling Machines. Robotmaster® seamlessly integrates robot programming, simulation and program generation inside Mastercam®'s industry proven CAD/CAM platform.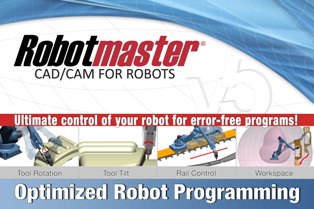 Common robot programming challenges typically require intricate user intervention or costly manual editing for producing error free programs. Robotmaster V5 provides innovative new tools to effortlessly optimize robot programs producing error-free robot paths avoiding singularity zones and robot/tool/workpiece collisions, working around joint and reach limitations and optimizing tool orientations along the entire trajectory.
Robotmaster users get the cost-efficiency and flexibility of robots and the ease of programming with CAD/CAM tools typical of CNC Manufacturing. Optimized trajectory programming is generated directly from CAD/CAM data in a single fully-integrated software solution, all off-line and without teaching points.
Robotmaster is ideally suited to program robots for such tasks as trimming, 3D machining, de-burring, polishing, dispensing, grinding and painting, and supports most industrial robot models.
About Jabez Technologies Inc
Robotmaster® is a product of Jabez Technologies, specialized in dedicated software solutions for industrial automation, manufacturing and robotics since 1996.
www.robotmaster.com
For more information please contact:
Jabez Technologies Inc.
(514) 333-8808