IWRR/IFRR Robust IP69-Rated Inductive Sensors
Baumer Ltd.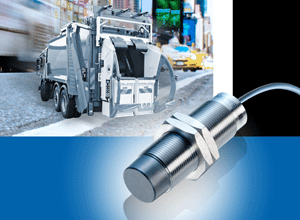 Sensors Designed to Survive Long-Term Use in Wind, Solar and Heavy-Duty Vehicle Applications
For outdoor applications exposed to harsh environments, Baumer has introduced the highly-robust new IWRR/IFRR Inductive Sensors for object detection and distance measurement up to 12 mm. These reliable IP67 and/or IP69-rated sensors are completely sealed against moisture and contaminants and easily withstand temperature ranges from -40 to +80ºC.
Available in digital and analog versions, IWRR and IFRR inductive sensors meet Baumer's rigorous proTect+ standard, guaranteeing the sensors' impermeability for reliable operation in highly-demanding environments that involve changing temperature conditions. Due to their extraordinary impermeability, these extremely low-maintenance sensors have an expected MTTF greater than 100 years.
As the sensors resist long-term exposure to salt water, oils and aggressive detergents, they are especially suited to the demands of on- and off-shore wind turbines. The compact sensors are available with IP69-rated V4A stainless steel housings for strenuous offshore environments or IP67-rated nickel-plated brass housings for onshore applications. Digital inductive sensors are mainly used to detect nacelle position and rotor speed. Measuring sensors are applied for brake monitoring and shaft deflection.
In addition to wind power, the robust IWRR and IFRR Inductive Sensors offer proven performance in a range of applications such as heavy vehicles including refuse collection and forestry machines, solar wafer manufacturing, the rail industry, and other rigorous applications exposed to challenging outdoor environments with high and low ambient temperatures.
The Baumer Group is a leading international manufacturer of sensors and system solutions for factory and process automation. In 2010 the innovative family-owned company employs about 2,000 people worldwide in 35 locations and 18 countries. The long lasting success is built on high customer focus as well as the innovative and diversified product range of the five product segments Sensor Solutions, Motion Control, Vision Technologies, Process Instrumentation, and Gluing Systems.