IWFM 08 Series of Inductive Sensors
Bau

mer, Ltd.

COMPACT, HIGHLY ACCURATE INDUCTIVE SENSORS MEASURE DISTANCES TO 2 MM

High Resolution Sensors are Easy to Mount in Restricted Spaces

Southington, Conn. -- For limited space distance measurement and positioning applications involving metal targets, Baumer introduces the IWFM 08 Series of Inductive Sensors. Measuring just 4.7 x 8 x 16 mm, these easy-to-mount sensors offer powerful resolutions of <0.001 mm at sensing distances up to 2 mm. These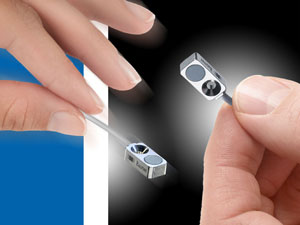 sensors offer high linearity and repeat accuracy, and are ideal for a variety of highly precise industrial applications.

IWFM 08 Series sensors feature an integrated 0... 10 V output, which allows them to be directly connected to the analog outputs of a control system and eliminates the need for measuring boards or processing units. These IP67-rated sensors are contained in robust, die-cast zinc/nickel-plated housings that prevent damage during installation and operation.

IWFM 08 Series Inductive Sensors are designed for use in a wide variety of factory automation and assembly/handling applications including automotive production, electronic manufacturing, injection molding, laboratory automation, medical equipment, metalworking, packaging, printing/graphics, solar cell/PV manufacturing, textile production, and wood/lumber processing. These sensors are proven in highly precise end use applications such as controlling robotic grippers, cranes/lifts, medical scanning equipment, and industrial drilling machines.

For more information on the IWFM 08 Series Inductive Sensors, contact Baumer Ltd. at (800) 937-9336, www.baumerelectric.com/usa.

The Baumer Group is a leading international manufacturer of sensors and system solutions for factory and process automation. In 2010 the innovative family-owned company employs about 2,000 people worldwide in 35 locations and 18 countries. The long lasting success of Baumer is built on high customer focus as well as the innovative and diversified product range of the five product segments Sensor Solutions, Motion Control, Vision Technologies, Process Instrumentation, and Gluing Systems. For further information please refer to www.baumer.com.