IUVO to Develop Wearable Robotic Exoskeletons in Co-Operation with Comau and Össur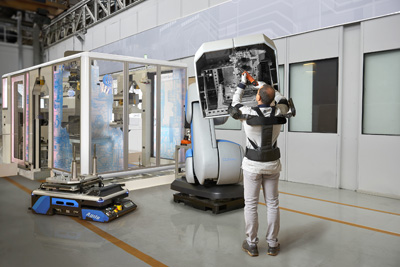 Pisa – IUVO, a spin-off company of The BioRobotics Institute (Scuola Superiore Sant'Anna) in the field of wearable technologies, has recently received a joint investment from Comau and Össur. The objective of IUVO is to create wearable, intelligent and active tools for a better quality of life. The first concrete examples are robotic exoskeletons capable of aiding and improving the quality of life for workers in industrial and service fields and for patients in need of improved mobility.
IUVO was founded in 2015 by a team of post-doctorates, professors and researchers with the objective to exploit the achievements of national and European research projects, such as the FP7 ICT CYBERLEGs. Comau and Össur hold a majority share of IUVO. In the joint venture between Comau and Össur, Comau is a majority holder. The new venture is backed by strong strategic and technological synergies that each partner brings to the table. Focus is set on research and development as well as the launch of new wearable robotic technologies, such as the exoskeletons.
As a worldwide leader in advanced automation solutions, Comau brings its vision, propensity toward innovative, open and easy-to-use technologies, and its ability to produce reliable robots. Össur is renowned for delivering advanced and scientifically-proven solutions in non-invasive orthopedics that improve human mobility. IUVO's engineering competence in the field of wearable technologies is furthermore complemented with the prestige and experience of Scuola Superiore Sant'Anna.
A fundamental aspect of the venture is the joint desire to progress and evolve human-machine collaboration within diverse sectors, including biomedical, manufacturing and consumer. With headquarters inside the Comau HUMANufacturing Innovation Center in Pontedera (Pisa), Italy, and a group of engineers and researches, IUVO is leveraging the shared competencies of the extended team to develop and commercialize wearable technologies. HUMANufacturing is Comau's path toward open, easy-to-use industrial automation whereby humans and robots collaborate seamlessly without barriers.
"This joint venture represents a key step toward the creation of wearable robotic exoskeletons that can enhance human mobility and quality of life," emphasized Mauro Fenzi, CEO of Comau. "By uniting the know-how and enabling technologies of the various partners, we are in a unique position to extend the use of robotics beyond manufacturing and toward a truly progressive global reality. I believe the differentiating factor of a project like IUVO is the combination of Comau's automation skills and Össur's extensive experience in bionics and bracing to enable the production of products, such as the exoskeletons, and to be able to demonstrate the benefits of robotics".
Dr. Thorvaldur Ingvarsson, Executive Vice President of R&D at Össur, added, "The combination of world-class talent, new ideas, advanced robotics and biomedical expertise bodes well for this new venture. I am convinced that the development of intelligent and adaptive wearable technologies will help shape a better future."
"The complementary nature of cutting-edge research in science and technology allows us to create unique products that can enhance the way people move and perform," explained Prof. Nicola Vitiello, Ph.D., leader of the Wearable Robotics Laboratory of The BioRobotics Institute and founding partner of IUVO. "Furthermore, these devices represent a long-term, sustainable answer to help increase the level of independence of those in need and, more generally, foster innovative life styles that promote our wellbeing."
Prof. Maria Chiara Carrozza, Ph.D., former rector of Scuola Superiore Sant'Anna and founding partner of IUVO, underscored the ambition and importance of the IUVO initiative. "IUVO is not just another spin-off company; when we founded it we had the ambition to contribute to revolutionize the society by fostering a large adoption of service robotic technologies: indeed, we are at the start of a new industrial revolution that will be enabled by the advancement of robotics and artificial intelligence technology; in this frame, IUVO has the ambition –thanks to the strategic alliance with two large industries- to pose a building block."
Service Robots
This content is part of the Service Robots curated collection. To learn more about Service Robots,
click here
.