It's a three-peat – Siemens is #1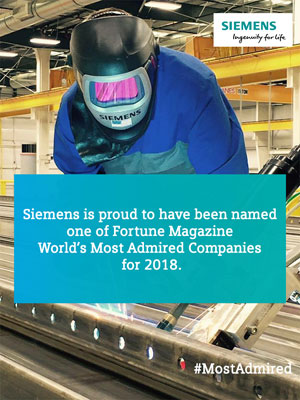 Siemens' streak is still alive. For the third year in a row we were ranked #1 against our peer group in Fortune's World's Most Admired Companies list.
Fortune's list is the most in-depth analysis of corporate reputation. The magazine's editors surveyed executives from more than 680 companies in more than 50 industries to determine its rankings. And there were 10 attributes of reputation used to evaluate companies, from social responsibility to innovation to the quality of products or services.
Our global workforce should be very proud. This distinction speaks to strengths Siemens has developed over time. Yet it also speaks to our vision for the future. Our company is connecting our core business goals to our social values like never before. And our new chapter – leading the digital transformation of the industrial world – is creating new value for customers by enabling machines to perform better than they ever have before.
As Joe Kaeser, CEO of Siemens AG, told Fortune recently: "…It's great to have a great past and history. But it's even greater to have a good future. So the most important history is the history we make today. Irrespective of our past, we need to look forward."
How will we keep making history then? We will do it by staying true to our mission: by making real what matters to customers and society. This honor clearly shows us we're on the right track.