iPORT NTx-U3 Family of Embedded Video Interfaces
New iPORT NTx-U3 family shortens time-to market, reduces risk, and lowers cost of USB3 Vision-compliant products for camera and system manufacturers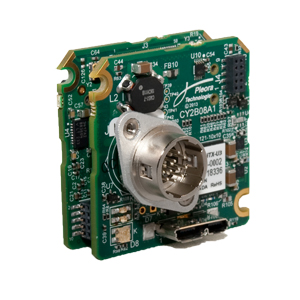 Pleora Technologies, the world's leading supplier of high-performance video interfaces, today unveiled the industry's first family of embedded hardware products for integrating USB3 Vision™-compliant video connectivity into cameras and imaging systems. Using Pleora's iPORT™ NTx-U3 Embedded Video Interface offerings, camera and system manufacturers can fast-track the development of high-performance, differentiated USB3 Vision products, while reducing technical risk and costs.
USB3 Vision, ratified in February 2013, standardizes the transport of high-speed imaging and video data over the widely available USB 3.0 bus. Pleora contributed to the initial technical specifications and marketing development of the standard, and serves on the USB3 Vision Technical Committee.

Lead customers are now deploying Pleora's iPORT NTx-U3 products in USB3 Vision-compliant imaging solutions for quality inspection, traffic, defense, medical, and security applications. iPORT NTx-U3 products accommodate a range of customer needs, with off-the-shelf hardware for fast, straightforward integration of USB3-compliant interface technology, and a comprehensive IP (intellectual property) package for tailoring Pleora's USB3-compliant hardware and/or software to individual needs.
"Our iPORT NTx-U3 embedded hardware, IP engineering resources, and design support services help manufacturers bring USB Vision-compliant products to market quickly, without the technical risks and costs of a complex in-house development program," said John Phillips, senior marketing manager, Pleora Technologies.
Pleora's newest product family includes:
The iPORT NTx-U3 Embedded Video Interface – Compact embedded hardware that provides a fast, low-risk way to integrate USB 3.0 connectivity in cameras and imaging systems. The hardware converts data at throughputs up to 3 Gb/s, with packetized video sent at low, consistent latency over the USB 3.0 link. To speed time-to-market, an evaluation kit enables the rapid design of prototypes and proof-of-concept demonstrations, often without requiring hardware development; and
iPORT NTx-U3 Intellectual Property – A comprehensive package of tools, reference designs, and expert design services that enables the development of customized hardware, a customized FPGA (field-programmable gate array) load, or both.
All video interfaces in Pleora's iPORT NTx-U3 product family include the eBUS™ SDK (software development kit), a feature-rich toolkit for Windows and Linux that allows manufacturers to develop video applications in short timeframes. The eBUS SDK complies fully with the GenICam™ standard for the computer control of cameras and other imaging systems that transmit video.
The iPORT NTx-U3 product family is now fully available. For full details on the iPORT NTx-U3 product family, visit www.pleora.com/our-products/embedded-hardware.
About Pleora Technologies
Pleora Technologies invented high-performance frame grabbers and embedded hardware for
the delivery of video over Gigabit Ethernet, and leads the market in video interfaces for USB 3.0 and wireless. With this spirit of innovation, Pleora engineers reliable video interfaces for system manufacturers and camera companies serving the military, medical, and industrial automation sectors. Pleora provides end-to-end solutions that shorten time-to-market, reduce risk, and lower costs. We partner with customers and tailor our products to individual needs.