iPORT CL-Ten, World's First Commercial 10 GigE Video Transmitter
iPORT™ CL-Ten IP engine delivers ultra-high-performance GigE Vision® connectivity for Camera Link® Medium cameras over standard 10 GigE networks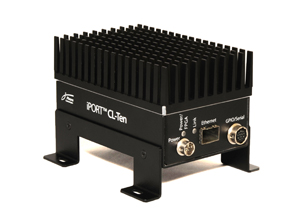 Pleora Technologies, a global leader in networked video connectivity solutions for high-speed imaging systems, today made industry history with the commercial launch of a high-performance transmitter that streams video at more than 8 Gb/s over standard 10 GigE networks, in real time with low, consistent latency.
"Our 10 GigE video transmitter is a world first that highlights Pleora's industry leadership in high-performance video-over-Ethernet solutions," said Rob Lee, Vice President of Marketing and Sales, Pleora Technologies. "The launch of this first product in our 10 GigE family marks the beginning of a new era in high-performance networked video."

Reliable, Low-Power Architecture
Pleora's 10 GigE transmitter — the iPORT CL-Ten Dual Medium IP Engine — is based on an innovative, low-power architecture that reflects years of development and refinement in Pleora's engineering labs. It meets growing market demand for reliable high-bandwidth video transport and is ideal for semiconductor, web, and flat-panel inspection systems, as well as new-generation medical and military imaging applications.

Multi-Rate Switched Video Networking
Pleora's iPORT CL-Ten integrates seamlessly with other vision system equipment – such as GigE cameras, PCs, displays, and controllers — in distributed, multi-rate, real-time video networks. "With the iPORT CL-Ten, you can add to existing 1 GigE networks with minimum disruption, or build an entirely new system with a mix of 1 and 10 GigE hardware – but all running on the same Ethernet switch, and using the same Pleora eBUS SDK," said John Philips, Senior Product Manager, Pleora Technologies.

Blazing Speed
The iPORT CL-Ten takes video data from two Camera Link Medium cameras and transports it in real time at more than 8 Gb/s to off-the-shelf PCs over industry-standard copper or fiber-based 10 GigE links. This lowers system costs by limiting the need for expensive and bulky Camera Link cables, extenders, and frame grabbers, while allowing PCs to be located safely away from inspection areas. Faster inspection times, through increased frame rates and maximum resolutions, mean further cost savings.

Pleora's iPORT CL-Ten complies fully with the open GigE Vision and GenICam™ standards, as well as with the Camera Link, PoCL, and CLProtocol standards, easing system design and integration. The iPORT CL-Ten is available as an enclosed unit.

The iPORT CL-Ten IP engine will be on live display this week at Vision China Shanghai 2012. Visitors are welcome to Pleora's booth in Hall W1, Booth 1345.

About Pleora
Pleora Technologies Inc. pioneered the use of Gigabit Ethernet for real-time networked video and revolutionized industrial imaging. With this spirit of innovation, Pleora engineers networked video connectivity solutions for mission-critical applications. Working with its rich portfolio of video networking elements, Pleora partners with customers to tailor solutions to their individual needs, from definition to deployment, with full integration support. Find out why more military, medical, and manufacturing integrators and OEMs choose Pleora and stay.