IP67 GigE Cameras with PoE, More I/Os
WOB

URN, MA -- IDS Imaging Development Systems, a global leader in medical and machine vision, has expanded its industrial camera portfolio with a new version of the proven and extremely robust GigE uEye RE camera series. The new RE models will offer Power-over-Ethernet (PoE) functionality to allow both power and data to be transferred by a single cable, resulting in greater flexibility when integrated in machine vision systems.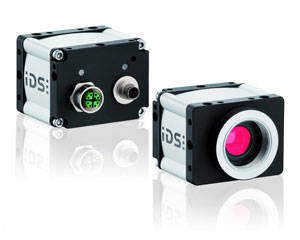 The GigE uEye RE with PoE is perfectly suited for harsh industrial environments with features such as a lockable, dust-tight, spray- and water-resistant M12 circular connector that conforms to IP67, and optically decoupled digital I/Os, as well as two general Purpose I/Os. The camera also offers M5 mounting holes on all sides for flexible positioning, along with an I2C bus for triggering peripheral devices. In combination with protective lens tubes, the camera meets protection classes IP65 and IP67.

Like all IDS GigE Cameras, the GigE uEye RE with PoE offers Plug & Play as well as easy software integration thanks to its comprehensive SDK. A 60 MB in-camera memory can be used to store images which can be transferred at a later time. This feature allows for pre- and post-trigger image capture, making the GigE uEye RE a great fit for traffic applications.

The non-PoE standard version of the GigE uEye RE will continue to be available. Both the standard and PoE versions are ideal for demanding vision applications in the harshest industrial environments.

ABOUT IDS
IDS is a leading manufacturer of digital industrial cameras and frame grabbers. The company was founded by two engineers in 1997. Their mission then and now is to develop, manufacture and distribute industrial grade imaging components with an excellent price/performance ratio and maximum ease of use. IDS is internationally represented by a subsidiary in the USA and through a network of distributors in almost all European and Asian countries. About half of IDS employees are engineers in hardware and software development as well as applications engineering. IDS customers include OEMs, system integrators and manufacturers in the industrial, security, scientific and medical industries. Over 250,000 IDS frame grabbers and 180,000 USB and GigE uEye cameras are in use worldwide today.