Introducing the 35mm diameter CBL35C Programmable Electric Moving Coil Servo Actuator from SMAC Corporation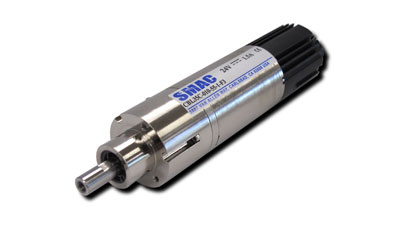 Introducing the 35mm diameter CBL35C electric cylinder with built-in controller from SMAC Corporation. With its built-in controller, the CBL35C controls force, position and velocity and features simple installation.
Ideal for applications with limited space but requiring accurate control, the CBL35C provides significantly longer life, programmability, high speed, accuracy, and energy efficiency while remaining price-competitive.
The new CBL35C series also enables the direct replacement of existing pneumatic cylinders and retrofits without any machine modifications required.
It's Graphical User Interface allows for easy straightforward setup of parameters and permits the user to change product profiles on the fly thereby improving factory uptime.
Features:
Built-in controller
Programmable position, velocity and force
Long life expectancy over 100 million cycles
Airless and quiet operation
Graphical User Interface is available for simple set-up
Space saving
Specifications:
Dimensions [mm]: Ø35 x 135 - 217(depending on stroke)
Stroke [mm]: 10, 25 (+1/-0)
Acceleration[G]: up to 50 (zero payload)
Peak Force [N]: up to 61
Encoder Resolution [µm]: 5 (standard) 1 & 0.1 (Options)
SMAC's Patented: 'Soft-Land' Technology