Introducing Basler PowerPack for Microscopy: Tailored All-round Camera Package for Microscopic Applications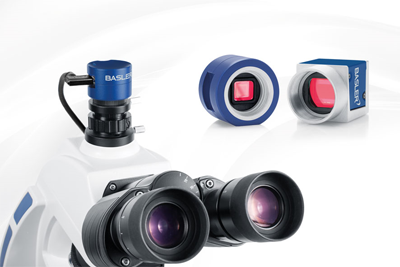 Based on today's ambitious microscopy requirements, the Basler PowerPack for Microscopy offers high quality cameras combined with all necessary components for an easy system setup and installation. The color cameras are equipped with the standardized USB 3.0 interface in various performance configurations achieved by state-of-the-art CMOS sensor technology. The chosen camera comes along with tested and compatible accessories, as well as with the professional Basler Microscopy Software for camera control, image acquisition, processing and analysis.

In every imaging implementation for a microscopy application, the system's requirements are very individual. Basler's PowerPacks for Microscopy include cameras with the latest and most cost-effective technology to meet these requirements. State-of-the-art CMOS sensors provide high performance, and resolutions from 1.2 MP to 5 MP supply best image quality. No matter whether capturing moving objects or real-time visualization is needed; up to 82 images per second cover complete and reliable image processing. In addition, the choice of digital industrial cameras provides outstanding color reproduction and fidelity, and a high dynamic range for reproducible, detailed observation, differentiation and analysis of the most delicate structures in materials or biological samples.

The chosen microscopy camera comes along with a tested and compatible USB 3.0 cable, a simple-to-understand quick install guide, as well as professional microscopy software. Thanks to this flexible PowerPack concept, precise and reliable imaging for image acquisition and analysis, as well as a comfortable system setup and easy installation, are a given.

Included in the Basler PowerPack for Microscopy is the Basler Microscopy Software for camera control, image acquisition, processing and analysis. Camera and software are well-matched to ensure reliable performance.

The professional software offers easy installation, intuitive user interface and a comprehensive help tool for all features and functions for monitoring, documenting and archiving in educational and routine research and industrial settings.

In the future, cameras with CMOS sensors will play an important role in microscopy thanks to ongoing development and significantly improved performance. CMOS sensors are not only cost-effective, compact and versatile; their high speeds (frame rate) and resolution (number of pixels), lower power consumption and, most recently, improved noise characteristics, dynamics, quantum efficiency and color concepts have opened them up to applications previously reserved for CCD sensors.

For over 25 years, Basler has measured its cameras and components against the highest standards, to offer outstanding quality for reproducible pictures and reliable analysis. Thanks to exhaustive quality assurance measures, Basler can provide its clients with long-lasting camera life, as well as long-term market availability.