International Symposium on Robotics 2020 - Call for Papers released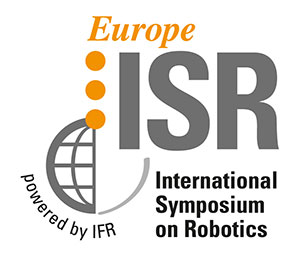 Frankfurt - The 52nd International Symposium on Robotics (ISR 2020) will be held on June 17th and 18th, 2020 at the Munich Trade Fair Centre, Germany. Interested authors are invited to submit their abstract.
In two conference tracks and a poster session over two days, the ISR 2020 will offer an insight into the latest state-of-the-art robot technologies to participants from both industry and research. Sessions will be held on relevant topics such as modeling, planning and control, as well as components and technologies. Developments from the area of robotics in production and industrial robots will also be addressed, as well as service and mobile robotics. Additionally, sessions on robotics in new markets & applications are planned, as well as human-robot-collaboration / future of work. And additional "Business Track" will offer guest speakers from the industry the opportunity to present their current products and developments. The special session for the IERA Award finalists will round up the conference proceedings.
Presentations of the final nominees for the Joseph F. Engelberger Award and the IERA Award will highlight the ISR 2020 Gala Banquet on the evening of June 17th.
The joint conference is organized in conjunction with the international trade fair automatica.
The international trade fair for automation and mechatronics AUTOMATICA has again been chosen as conference platform. AUTOMATICA expects more than 800 exhibitors and more than 30,000 visitors from June 16-19, 2020. As the fair will last longer than ISR 2020, there is the possibility and time for all conference participants to visit this interesting exhibition during and after the conference
The Call for Application has been released. Please submitt your abstract by January 13, 2020.