Interconnect Motor Cables for Continuous-flex Applications
igus offers motor cables for Siemens, Indramat, Fanuc and Allen Bradley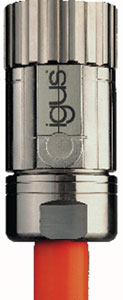 EAST PROVIDENCE, R.I. – Cable carrier expert, igus®, has developed a line of continuous-flex, interconnect motor cables harnessed in accordance with leading manufacturers, including Siemens, Indramat, Fanuc, and Allen Bradley. As with all Chainflex® cables, these interconnects are ideal for continuous-flexing applications in an Energy Chain® cable carrier.
The cables are available for drive, control, motor and robotic functions and come equipped with different cable connectors, including those with flying leads, adapter plugs and extensions.

igus' entire line of Chainflex cables can handle tight bending radii in dynamic applications and are tested over millions of cycles in all types of conditions to ensure optimal performance.
For more information about interconnect drive cables, call 1-800-521-2747.
About igus
igus® develops industry-leading Energy Chain® cable carriers, Chainflex® continuous-flex cables, iglide® plastic plain bearings, igubal® spherical bearings, DryLin® linear bearings and guide systems. These seemingly unrelated products are linked together through a belief in making functionally advanced, yet affordable plastic components and assemblies. With plastic bearing experience since 1964, cable carrier experience since 1971 and continuous-flex cable since 1989, igus provides the right solution based on 70,000 products available from stock. No minimum order required. For more information, contact igus at (800) 521-2747 or visit www.igus.com.