Intelligrated® to Showcase E-Commerce Order Fulfillment Solutions at IRCE 2012
rong>Booth #1962 will feature scalable GoKart™ picking systems for increased fulfillment capacity and accuracy

(CINCINNATI) Intelligrated®, a leading North American-owned automated material handling solutions provider, will exhibit its latest e-commerce order fulfillment technology at the Internet Retailer Conference and Expo (IRCE), June 5-8 in Chicago. Intelligrated's booth (#1962) will feature live demonstrations of its Real Time Solutions® GoKart™ mobile picking systems, designed to help e-commerce companies fulfill orders up to 60 percent faster than manual operations.

Real Time Solutions GoKarts are ideal entry-level automated e-commerce order fulfillment solutions that can be scaled to meet growing order volumes or seasonal peak requirements. Driving faster, more accurate shipments and improving customer satisfaction, Real Time Solutions GoKarts can help e-commerce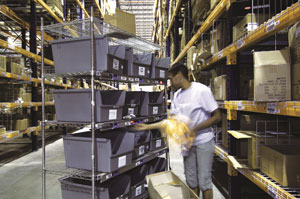 operations fill up to 10,000 orders per day at picking rates from 130 to 300 lines per order filler per hour.

GoKarts incorporate paper pick lists, RF scanners, voice commands or pick-to-light devices to direct and confirm actions, and are driven by Real Time Solutions order fulfillment software. This advanced software package optimizes order release based ship time and order commonality, and provides easy-to-use management screens for real-time productivity monitoring and workflow adjustments.

"Our broad range of order fulfillment solutions put businesses in control of their labor-intensive order picking operation," says Jerry Koch, director of corporate marketing and product management, Intelligrated. "Whether your goal is to grow to 10,000 orders per day or 150,000 orders per day, Intelligrated can help e-commerce companies get big fast."

GoKarts and the rest of the Real Time Solutions line of order fulfillment systems, including pick-to-light, put-to-light and voice picking systems, are part of Intelligrated's broad range of automated e-commerce fulfillment solutions to handle 1,000 to 150,000 orders per day. Intelligrated experts will be on hand in IRCE 2012 booth #1962 to advise conference attendees on the various order fulfillment solutions available to help grow their e-commerce fulfillment operations.

For sales and marketing information, please contact Emily Smith, senior marketing coordinator, Intelligrated, by phone at (513) 881-5239 or by email.

For media information, please contact Natalie Fioto, public relations, Koroberi, by phone at (919) 945-0566 or by email.

About Intelligrated
Intelligrated is a leading North American-owned, single-point provider of automated material handling solutions with operations in the U.S., Canada, Mexico and Brazil. Headquartered in Cincinnati, Intelligrated designs, manufactures and installs complete material handling automation solutions, including conveyor systems, IntelliSort sortation systems, Alvey palletizers and robotics, Real Time Solutions order fulfillment systems, warehouse control software and advanced machine controls—all supported by 24x7 Customer Service and Support.

Serving the warehousing, distribution, consumer product manufacturing, postal and parcel markets, Intelligrated collaborates closely with its clients to develop productivity solutions and support their needs throughout the life of their material handling systems.